What to do if your Galaxy phone's touch screen doesn't work properly
If your Galaxy phone's touch screen is not sensitive enough or responds intermittently, refer to the guide below.
Before you try out the recommendations below, be sure to check if your device's software and related apps are updated to the latest version. To update your mobile device's software, follow these steps: 
Step 1. Go to Settings > Software update.
Step 2. Tap on Download and install.
Step 3. Follow the on-screen instructions.
1. Attachments to the screen may affect the touch sensitivity
If you attach accessories, such as screen protectors to the touch screen, the touch screen may not work properly. Small stickers, such as protective labels, can also affect touch sensitivity. In particular, some Samsung-unapproved protective glasses or films have only adhesive on the side edges, and if these products are attached to the screen, the protective glass or film may not adhere completely to the screen.
Because of this, some areas of the touch screen may not recognise the touch and may respond intermittently. After removing the attachment, check the touch function again. If the attachment is removed and the touch works properly, your phone has no problem regarding the touch screen.
Note: It is recommended to use Samsung-approved accessories. Using unapproved accessories may cause performance problems.
2. Be careful when touching the screen
If you are wearing gloves or your hands are not clean while touching the touchscreen, or if you tap the screen with sharp objects or your fingertips, the touchscreen may malfunction.
3. Moisture may affect the touch screen.
The touchscreen may malfunction in humid conditions or when exposed to water.
4. Activate the touch sensitivity feature
Your Galaxy phone has a feature that increases the touch sensitivity of the screen for use when a screen protector is attached. If you feel that the touch on the screen has become relatively less sensitive after using the screen protector, follow the steps below to enable the Touch Sensitivity feature.
Step 1. Go to the Settings, and then select the Display menu.
Step 2. Find and tap the switch to activate the Touch sensitivity.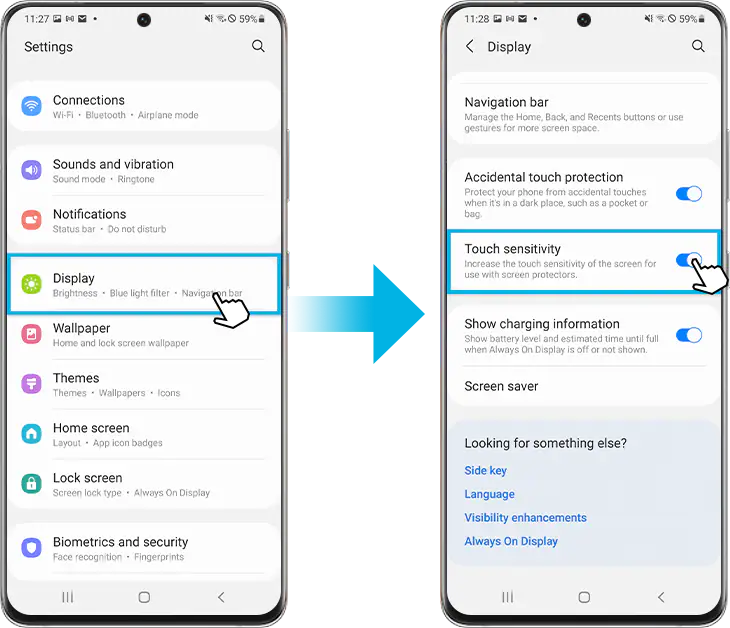 Note: 
If there is no response on the screen, or if the screen is cracked, the device may need repair.
Device screenshots and menus may vary depending on the device model and software version.
If you are experiencing difficulties with your Samsung mobiles, tablets or wearables, you can send us a question in the Samsung Members app.
This allows us to take a closer look at what is happening. The data is anonymised and only held for the duration of the investigation. Find out more about sending an error report through the 'How to use the Samsung Members app'.
Please answer all questions.