What to do when Bluetooth or Wi-Fi connection is unstable on my Galaxy Z Flip?
Unlike ordinary smartphones, your Galaxy Z Flip is specially designed to fold downward. Based on this new feature of the Samsung foldable device, you can hold the entire folded device which can affect radio waves such as Bluetooth, Wi-Fi, and other networks. 
Check the following situations first
Do not attach metallic stickers on the antenna area (side with cover screen) of the device.
Do not attach a device cover made with metallic material to the device.
It is recommended that the user uses the device with the product cover supplied to avoid direct hand contact with the antenna. 

Check connectivity and network settings
Step 1. Launch the Settings app.
Step 2. Tap Connections. 
Step 3. Turn on the Bluetooth switch to re-activate.
Should you still have connectivity problems, please try the following to reset the network settings on your device. 
Step 1. Launch the Settings app.
Step 2. Tap General management menu.
Step 3. Tap Reset menu.
Step 4. Tap Reset network settings menu.
Step 5. Tap Reset settings button.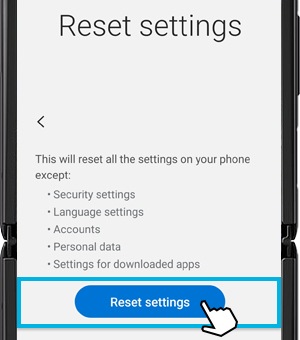 Note: When you reset the device's network settings, you may lose registered information. 
Not finding what you're looking for? We're here to help.
Call
0818 717100Phone Support
Smartphone support | Mon-Sun | 8am to 8pm
All Products support | Mon-Sun | 8am to 8pm

0818 302 016Samsung Shop
For new and existing orders | 9am - 5pm, 5 days a week
0124 75161B2B Support
For business support
8am - 6pm, Mon - Fri
Calls to 0818 numbers are a National Call number.
These are subject to call charges which vary by network and are subject to change.
Calls maybe recorded for training and quality purposes.
For information on how we collect and use your details, please refer to our Privacy policy
* For any printer related enquiries please visit the HP website.
Contact Us