How to register your Samsung TV
If you've bought a new Samsung TV you should make sure to register it. This will help you to get the most out of our customer services. There are two ways to register your TV: through the TV menu, or through the Samsung Members app.

What is the advantage of registering my TV?
Registering your products gives you faster support and access to all of the services for your registered products in one place. Registering your products to your Samsung account also offers the following advantages:
Product details are immediately available to Samsung Customer Service making it easier to find documents and queries can be processed more quickly.
Download the latest manuals, FAQs and instructions without having to search for your product.
Create service requests to find solutions to your concerns yourself.
Track your service status online.
Registering your TV through the menu
2020 TV models have a convenient feature that allows you to register directly through your TV. This means that you don't have to find your serial number making the process quick and easy. Follow the steps below to register your TV.
1
Press the home button on your remote control, then select Samsung Account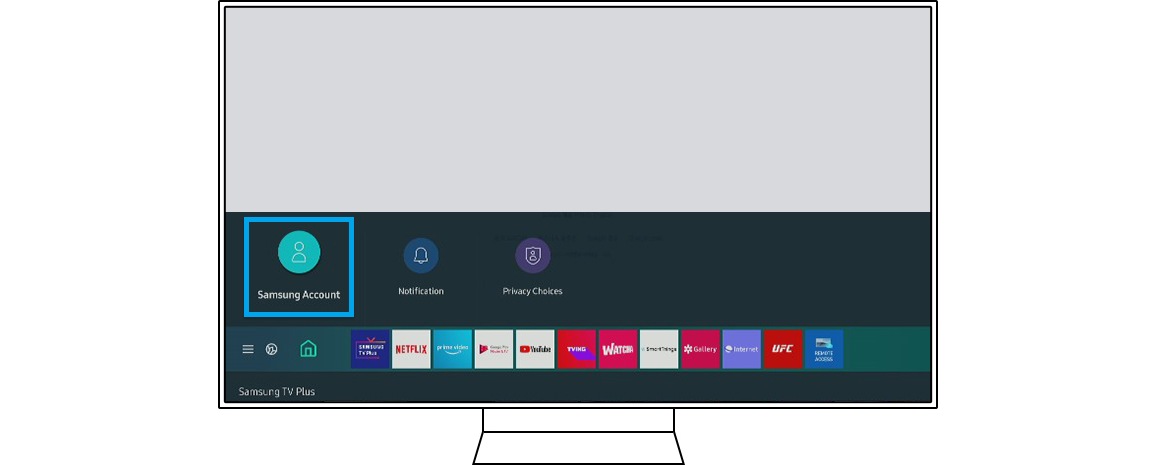 2
Log into your Samsung account. If you have a Samsung mobile device you can use the same account details
3
Select TV Registration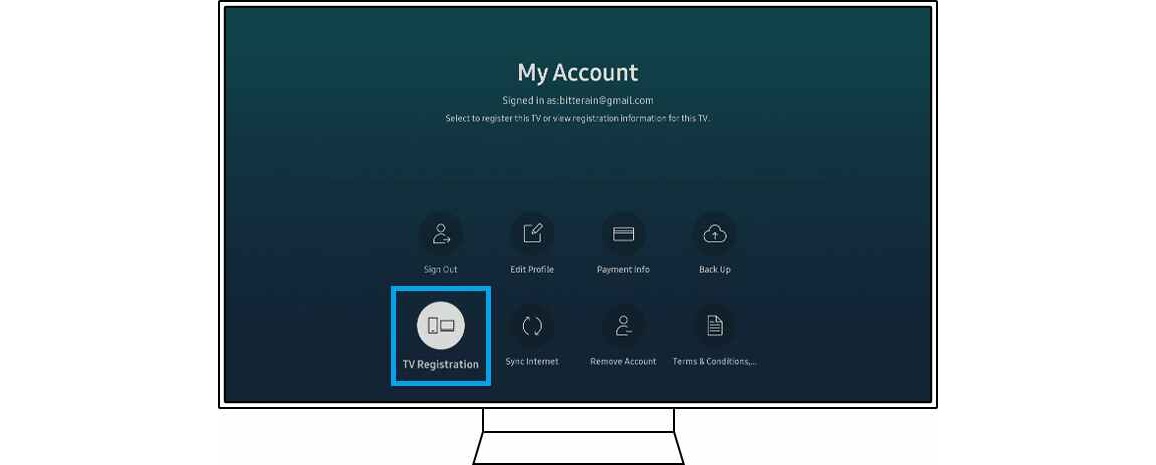 4
Read the on-screen terms and conditions, then select Agree & Register
5
Once the registration has been completed, select Close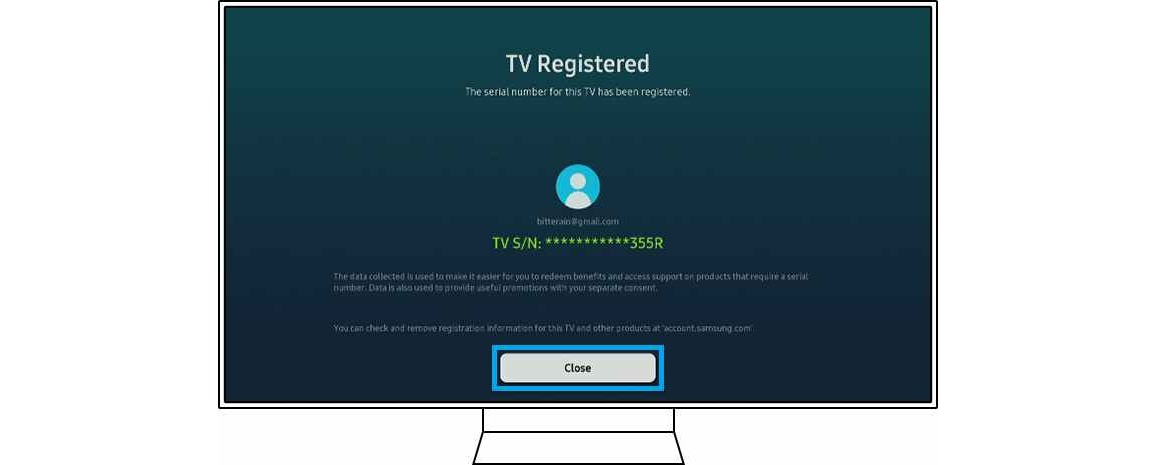 Register your product using the Samsung Members app
You can register your product using the Samsung Members app. Install and open the Samsung Members app and sign in to your Samsung Account to register Samsung products. 
1
Open the Samsung Members app, then tap Get Help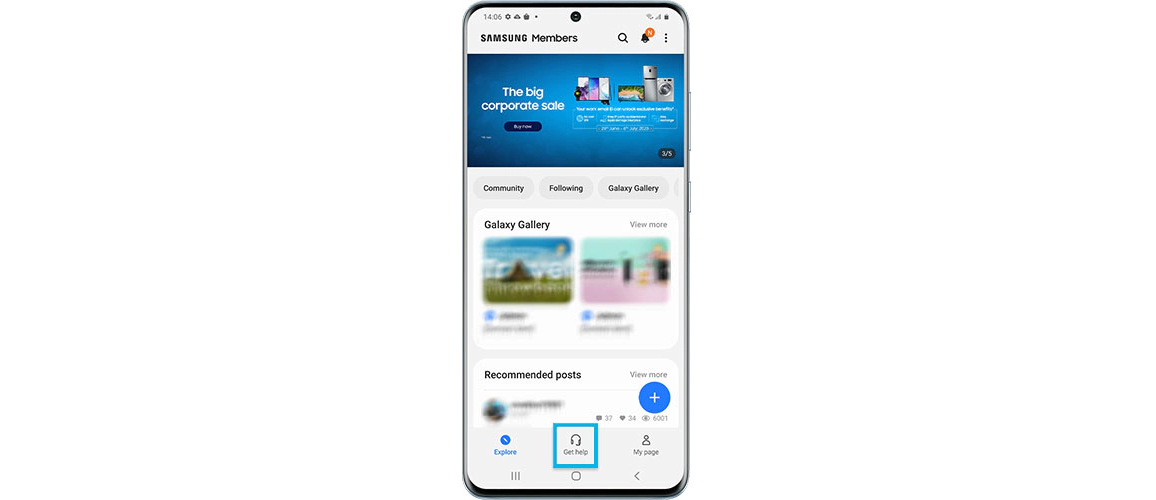 2
Tap Register product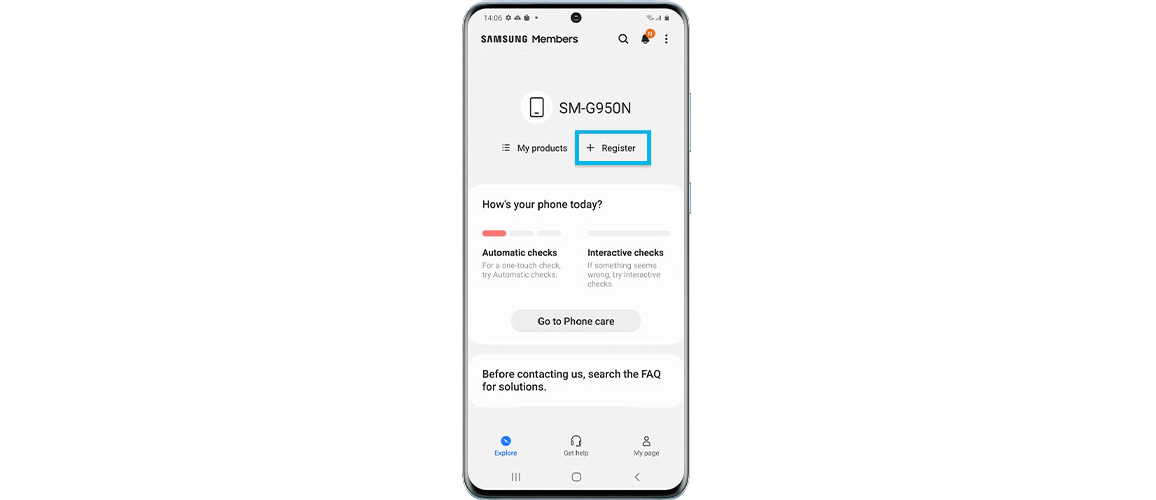 3
Choose your preferred registration method: Scan QR code, Scan Wi-Fi, or Use barcode
Scan QR code: Scan the QR code on your product, select the product type, then enter or scan the model number.
Scan Wi-Fi: Scan Wi-Fi, tap on the product that you want to register, then select the product type.
Use barcode: Select the product type, scan the barcode, or manually enter the model/serial number on your product.
Please note: The QR code, barcode, Model number, and Serial number of your TV is usually on the sticker on the side or back of the product or packaging. You can find the QR code, Model number and Serial number on your TV. Go to Home > Settings > Support > About this TV
Troubleshooting product registration
Using a VPN can cause connection issues. We recommend not using a VPN while registering.
If you fail to register your product using the Samsung Members app, uninstall and reinstall the app, then try again.
Please note:
The device screenshots and menu may vary depending on the device model and software version.
You can also register your product on the Samsung website.