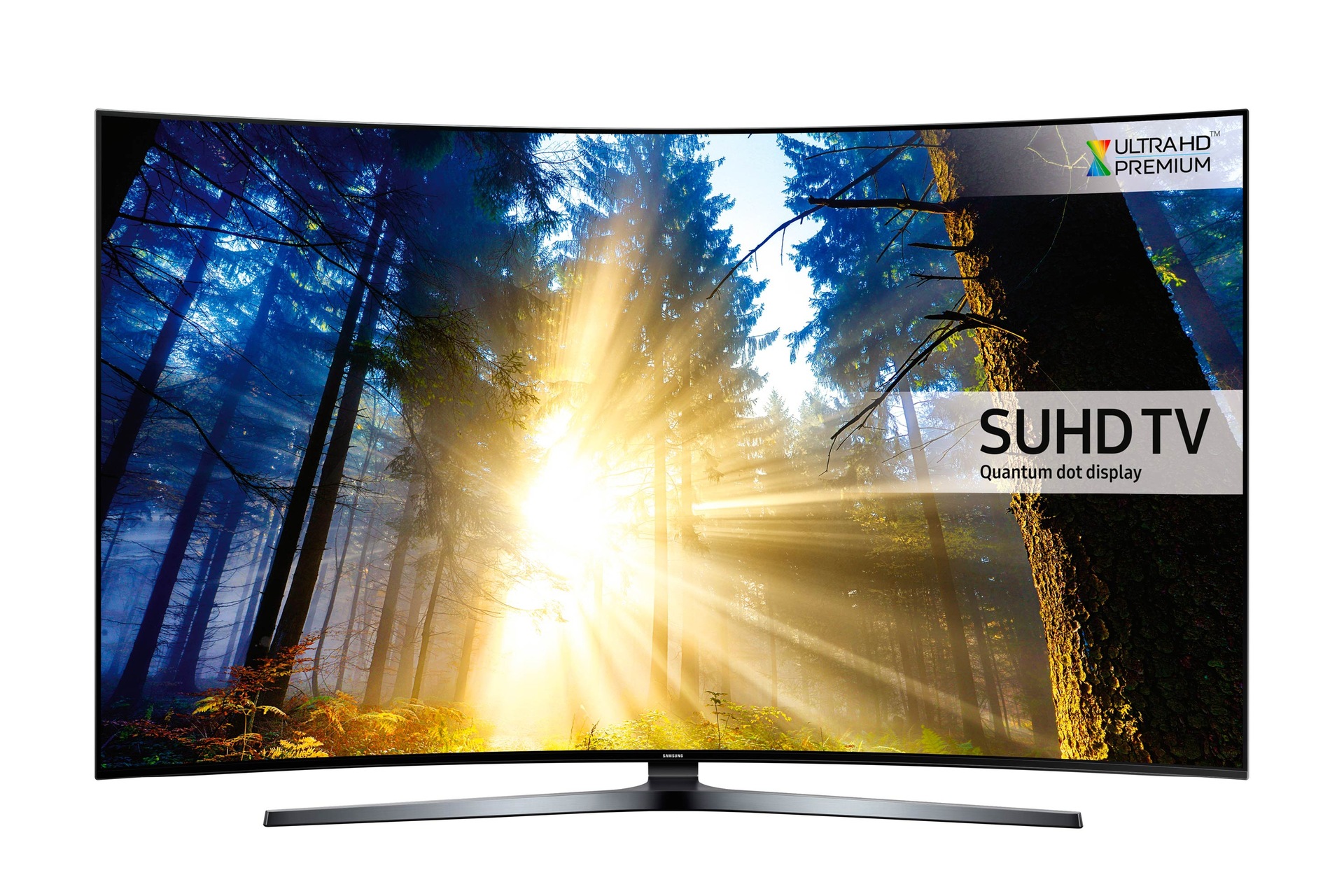 88" KS9800 9 series SUHD Quantum Dot HDR Smart TV
UE88KS9800TXXU
Sorry! This product is no longer available
Screen Type
Colour
SMART TV Feature
Connections
Welcome to a Quantum leap in picture quality
The KS9000 delivers a striking curved bezel-less SUHD Quantum dot display producing an outstanding UHD Premium viewing experience with HDR 1,000, which ensures exceptional peak luminance, colour vibrancy, stunning black levels, shadow detail and depth with 2400 PQI. Together with Samsung's Smart platform, you can enjoy the Smartest TVs on the planet.
Quantum Dot Colour
Welcome to an incredible unrivalled world of lifelike UHD picture quality, with 64 times more colour than UHD TVs. SUHD with Quantum Dot Display doesn't just raise the bar, it changes the game by expressing an exceptionally wide range of colours, over 1 billion – breathing life into each and every one of them.
HDR 1000
The latest standard for UHD content is High Dynamic Range. All UHD TVs that are HDR compliant can display HDR content, but not all HDR TVs are equal. HDR 1,000 provides a far superior High Dynamic Range experience for striking brightness, exceptional shadow detail and vividly accurate colour. HDR 1,000 is part of what makes a UHD Alliance UHD Premium TV, so you can experience the new generation of premium mastered content, exactly as the director intended.
SUHD Remastering Engine
The SUHD remastering engine analyses the source of and the content coming into the TV to upscale and deliver pictures as close to HDR picture quality as possible, delivering wider colour and contrast ranges.
* Remastered picture quality will vary depending on the source resolution.
Smart Hub
Seamlessly access all your entertainment sources through the Smartest TV on the Planet. Watch your most loved TV shows using the TV guide, switch to binge on UHD box sets through Netflix, Amazon Instant Video1 or catch up with shows you have missed through our variety Catch Up content partners2 – all of this is doable without interrupting what you are currently watching and all from the Smart Hub home screen. 3 Just 3 clicks to your favourite content.
Cloud Gaming
Does your TV open up the world of console-less video gaming? Who needs a games console when you can access a wealth of video games from the cloud straight to your TV? Access a huge array of games without the need to invest in a console. Play alongside your favourite stars and race against the best racing drivers, directly through your TV.
UHD Resolution
Introducing the next generation of Premium UHD TV's, not just more pixels but better pixels. Displaying a new generation of brightness and colour of professionally mastered UHD content from Hollywood studios.
UHD Upscaling
Samsung's unique 4 step UHD Up-Scaling process converts live TV, your movies and gaming to the highest resolution possible, transforming what you watch to premium picture quality. The technology identifies the specific process required to the input signal, noise reduction and up-scaling to convert the source material into the UHD resolution of the TV. The last step dedicates resources of the processor to specific areas of the picture requiring detail enhancement. Samsung UHD up-scaling engine raises all conventional content to more impressive quality and with fast and powerful processors it delivers the very best in UHD picture quality. That's why Samsung are the most awarded UHD picture quality brand 2015*.
*Source Gorkana within a set of TV/AV media titles
Ultra Black
Enjoy striking levels of contrast even when watching TV in the brightest environments with Ultra Black Technology. Experience all the vibrant colour and detail of next generation Premium UHD without having to close the curtains or turn off the lights. This new screen technology drastically reduces ambient light reflection to ensure maximum picture contrast is delivered as the Hollywood Director intended.
Supreme UHD Dimming
UHD Dimming technology divides the TV screen into hundreds of small zones, analyzing each one independently to adjust colour, brightness and sharpness so you can experience better shadow detail and accurate colour when watching your favorite video content.
Curved Screen
Not all Curved TV's are the same. Samsung Curved TV's deliver deeper, wider and clearer picture quality for a captivating viewing experience. The Curved screen surrounds you, bringing the corners closer to you providing a clearer view with ultimate levels of detail as well as a wider field of view. Optimal screen curvature means the curve radius is customised by screen size allowing you to lose yourself completely in the immersive viewing experience.
Auto Depth Enhancer
Samsung's unique Auto Depth Enhancer adds layers of contrast to the background, midground, foreground and objects to give even further depth of image.
Precision Black Pro Copy
Precision Black Pro gives superior contrast through backlight dimming technology delivering deep blacks with no loss of detail in the darkest of scenes
Easily share your content to TV
Take pictures, videos and music from your mobile and PC to your Smart TV using the Samsung Smart View app. It gives you amazing convergence and easy connectivity, with majority of personal devices .
*Setup requires your TV and mobile device to be on the same network (AP) *Supported feature may vary by OS and devices. *For more information on supported devices, please go to www.samsung.com/smartview
*Setup requires your TV and mobile device to be on the same network (AP) *Supported feature may vary by OS and devices. *For more information on supported devices, please go to www.samsung.com/smartview
Faster speeds, stronger performance
The powerful Quad Core Processor speeds up your Samsung Smart TV so it reacts to commands and running apps instantly. It also gives you the speed to enjoy multitasking with the Multi-Link Screen.
Accelerate your Smart TV with Tizen
Tizen takes Smart TV performance to another level with faster boot times and quick access to Live TV and all your apps. It even provides support for popular local VOD apps for optimized TV viewing.
Dive into your video content
Motion Rate 240 offers immersive viewing with flicker-free video content. The amazing refresh rate and backlight technology will keep you at the edge of your seat with fast and seamless video.
Plug your entertainment into the TV
Using ConnectShare, you can watch a variety of content in one simple step. Just plug your USB or HDD into the TV and enjoy your movies, music, and pictures on the big screen.
*Supported formats include AVI, ASF, MP3, JPEG and others. See manual for full list of formats supported
*Supported formats include AVI, ASF, MP3, JPEG and others. See manual for full list of formats supported
Create your own entertainment space
Samsung TVs support HDMI inputs, which lets you create a multimedia entertainment centre in your own living room. Connect HDMI straight into your TV to view various contents from multiple devices.
3,840 × 2,160

Resolution

4,200R

Screen Curvature

9

Series

Quantum Dot Color

Quantum Dot Color

4

HDMI

3

USB
How It Stacks Up
Screen Type

Colour

SMART TV Feature

Connections
Q HDR 1500

Quantum 4K Processor

Object Tracking Sounds (OTS)

Anti-Reflection Screen
*Terms and conditions apply.
Certain features with the Smart Hub may not be available without expressed consent regarding the collection and use of personal information. Content available through Smart Hub may vary among product categories, models and territories. Certain applications must be purchased and may not be available in all regions.
* Paid for subscriptions to app services shown may be required * Apps shown may not be available on all Samsung Smart TV products. The Samsung Smart TV platform is used by Content Providers to make apps available. Content Providers may remove apps from the Smart TV platform or stop supporting them at any time. When new Samsung Smart TV products are launched, there may be a delay before the apps shown become available on those products.