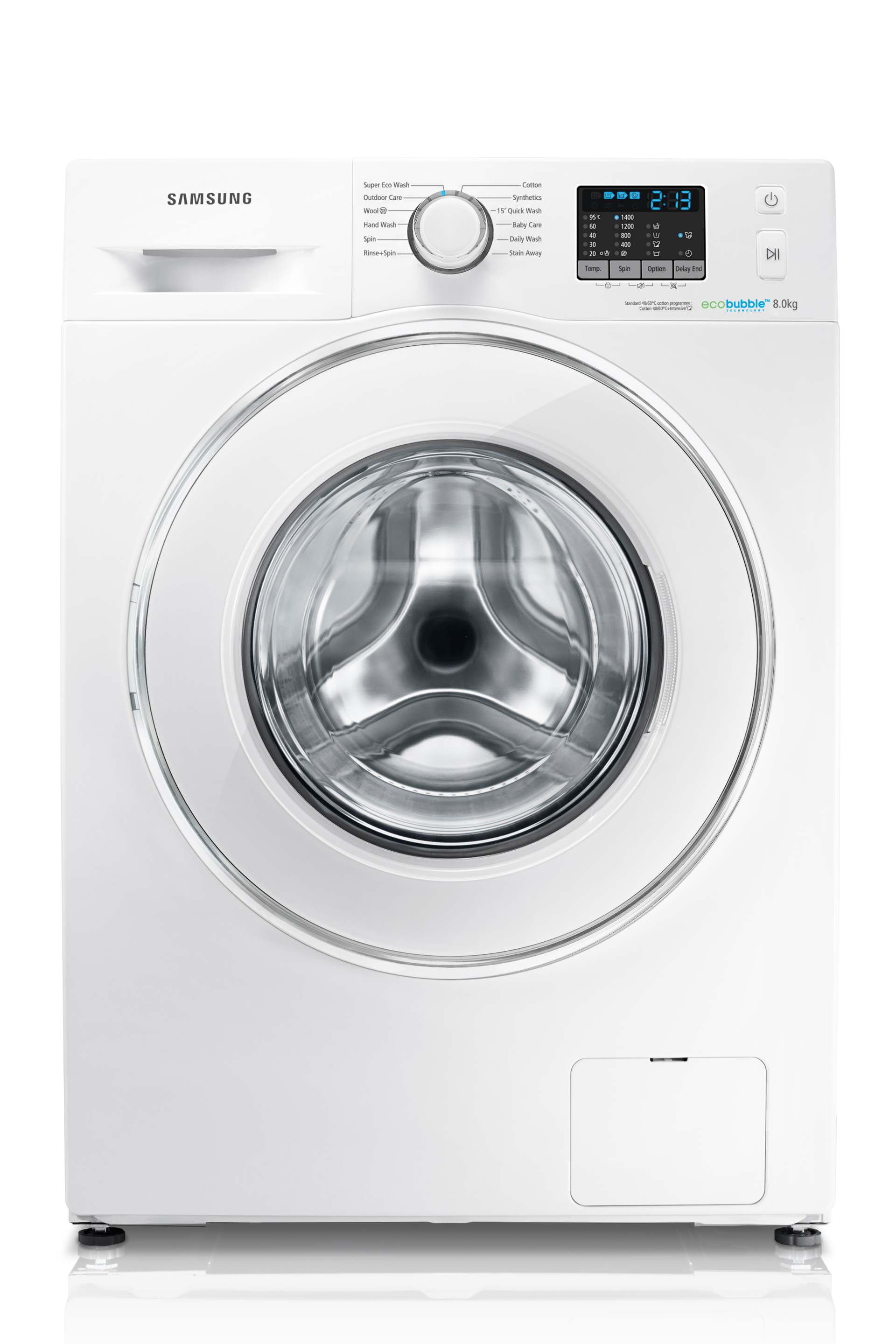 F500 Washing Machine with ecobubble™, 8 kg
WF80F5E2W4W/EU
Sorry! This product is no longer available
FEATURES
Save energy thanks to ecobubble™ technology
Bring a great look into your home with elegant design
Smart Check to resolve issues using a smartphone
Get rid of troublesome stains with Stain Away
Wash Cool, Save Energy A Revolution in Washing
Now you can wash just as effectively in cool as in warm wate—The Samsung washing machine with Eco Bubble™ technology. It saves energy with every load and is a revolution in washing. Wash Cool. Save energy.
How Eco Bubble™ works?
Breakthrough Samsung Eco Bubble™ technology froths detergent with air and water before the cycle begins, generating cleansing bubbles that penetrate fabrics faster than concentrated detergent. Wash clothes as effectively in cool water as you would in warm water which saves energy.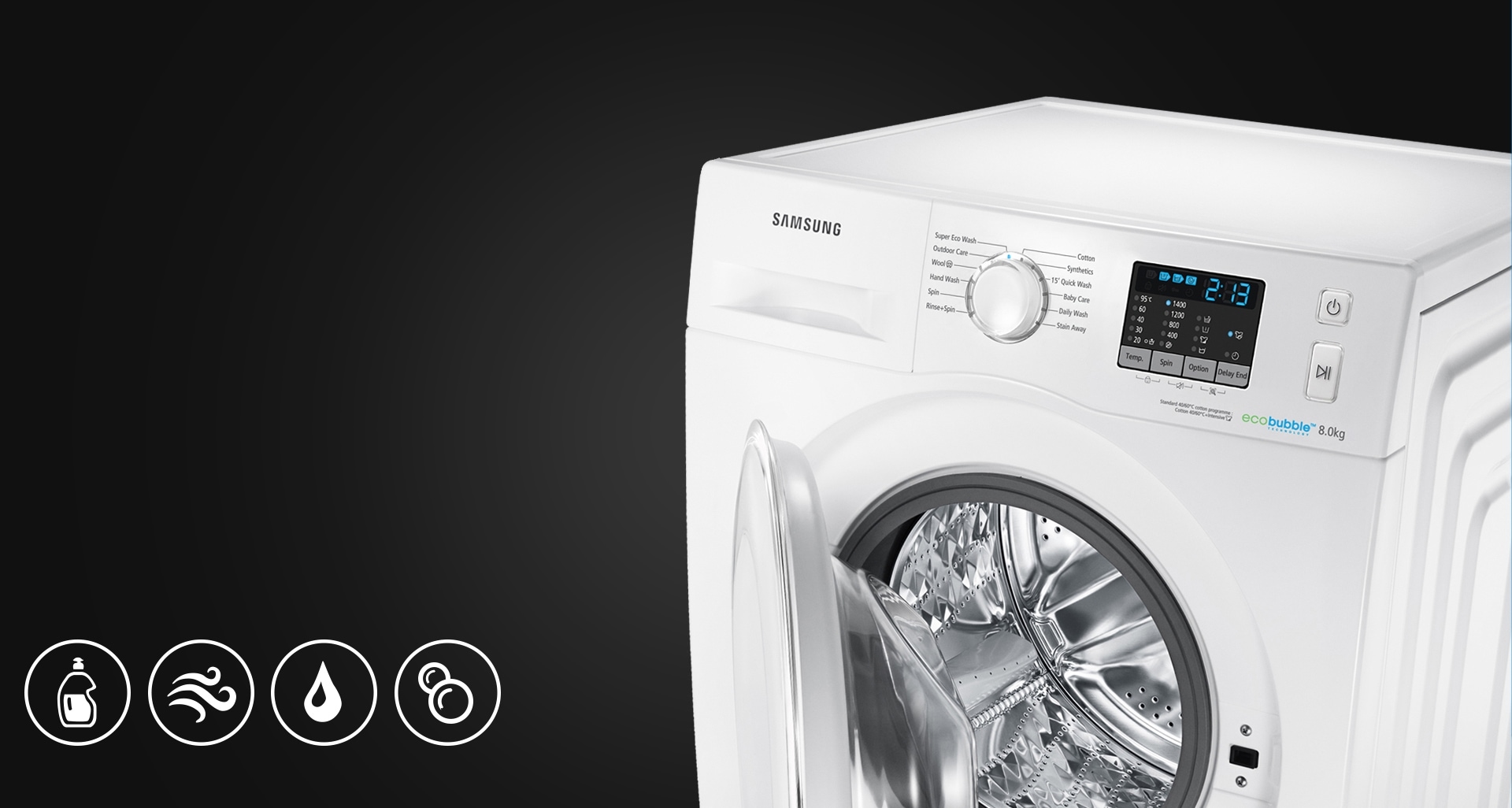 Add elegance to your home décor
Enhance your home décor with Crystal Gloss™ Design. Instead of a mundane, boxy look, the washing machine's facade is slightly curved for a more inviting aesthetic. It incorporates Samsung's Touch of Colour™ technology, which adds a deep and elegant transparency to the door's rim. Complementing the washing machine's organic design is the wide display, featuring flat buttons that respond to your slightest touch.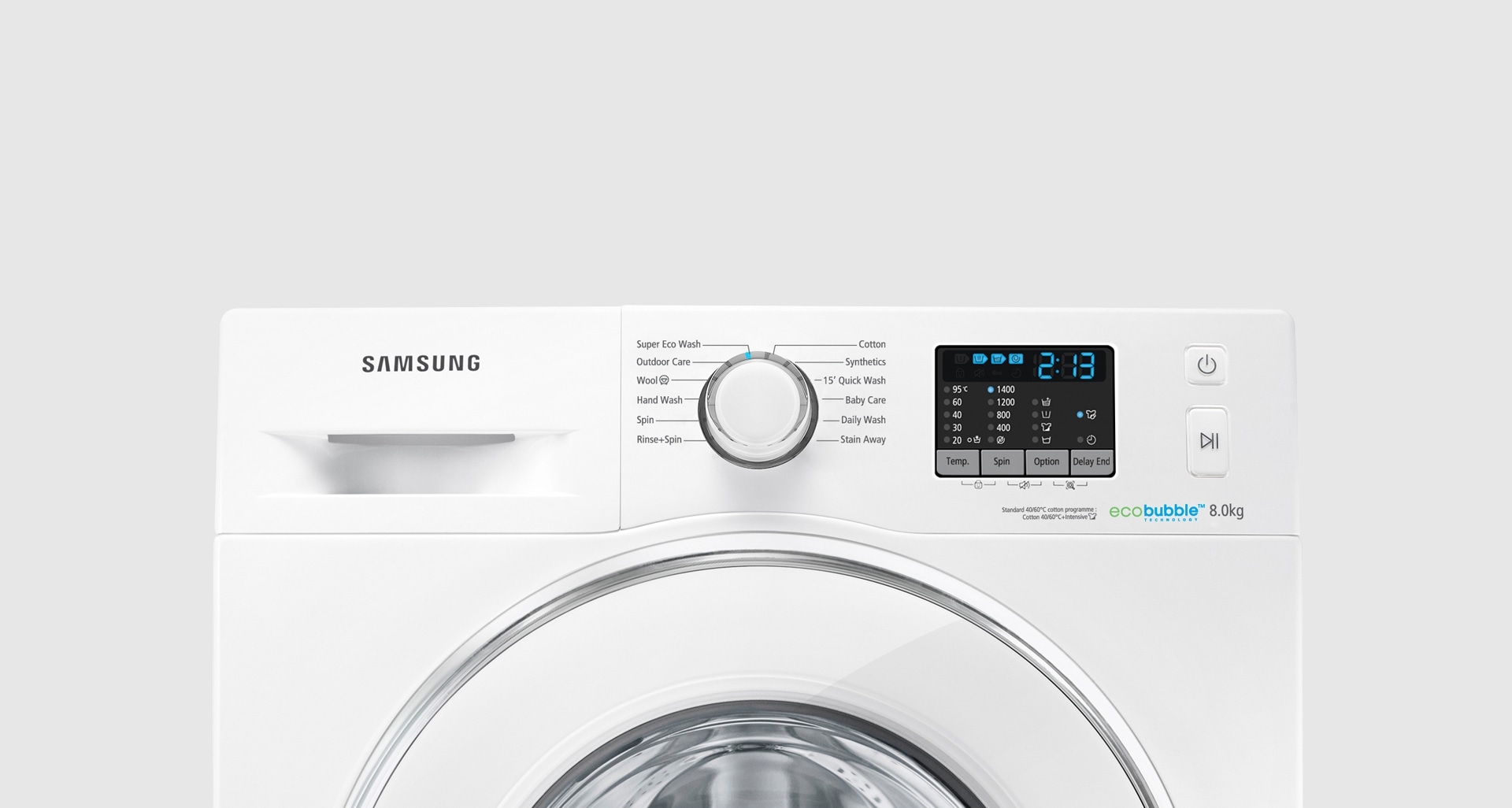 Let Smart Check diagnose and troubleshoot problems for you
Imagine not having to call a repairperson when there's a problem because your washing machine notified you first with the solution. The new Samsung washing machine comes equipped with the innovative Smart Check. Smart Check detects and diagnoses errors at an early stage and provides easy troubleshooting solutions through the use of a smartphone with LED scanning. You don't even have to consult your user manual — you can correct the issue before it becomes a real headache.
Remove stains - and extra steps
There are many ways to dirty your clothes. And one unique way to clean them. Stain Away uses Eco Bubble™ technology to deeply, gently and effectively clean clothes. Remove the most common stains—such as wine, tomato, blood, chocolate and grass—as well as less common ones.
Last Memory
If you're washing load after load without changing the settings, you don't need to reprogramm the cycle every time. Last Memory stores the last setting used—even if the washing machine has been turned off. Just press start and wash another load. The time you save will add up fast.
Diamond Drum
The streamlined shape of the Diamond Drum provides a powerful yet gentle washing performance. The diamond embossed drum gently moves clothes along the uniquely designed drum, while smaller water holes prevent fabrics from snagging and being damaged. Get fabric care with deep-clean results.
Compare
WW6000, 8 kg

WW6000, 8 kg

F500, 8 kg

F500, 8 kg

WW5500, 8kg

WW5500 AddWash™, 8kg

Available colours

ecobubble™

AddWash™

VRT

Super Speed Wash

Digital Inverter Motor
How It Stacks Up
QuickDrive™

Super fast

Washing Capacity (kg)

9 kg

Energy Efficiency Class

A+++