Enjoy easy, fast and secure web surfing
Samsung Internet for Android is a simple, fast, and reliable web browser for your phone and tablet.

More secure web browsing
Enjoy a safer browsing experience with Secret Mode, Biometric Web Login and Ad Blocker. Privacy and Security reports how well you're being protected in real-time.
The best performing browser on Galaxy
Experience the new features of Samsung Internet with Galaxy.
- Extended battery life via Galaxy hardware optimization.
- Increased Usability with Samsung DeX and Bixby.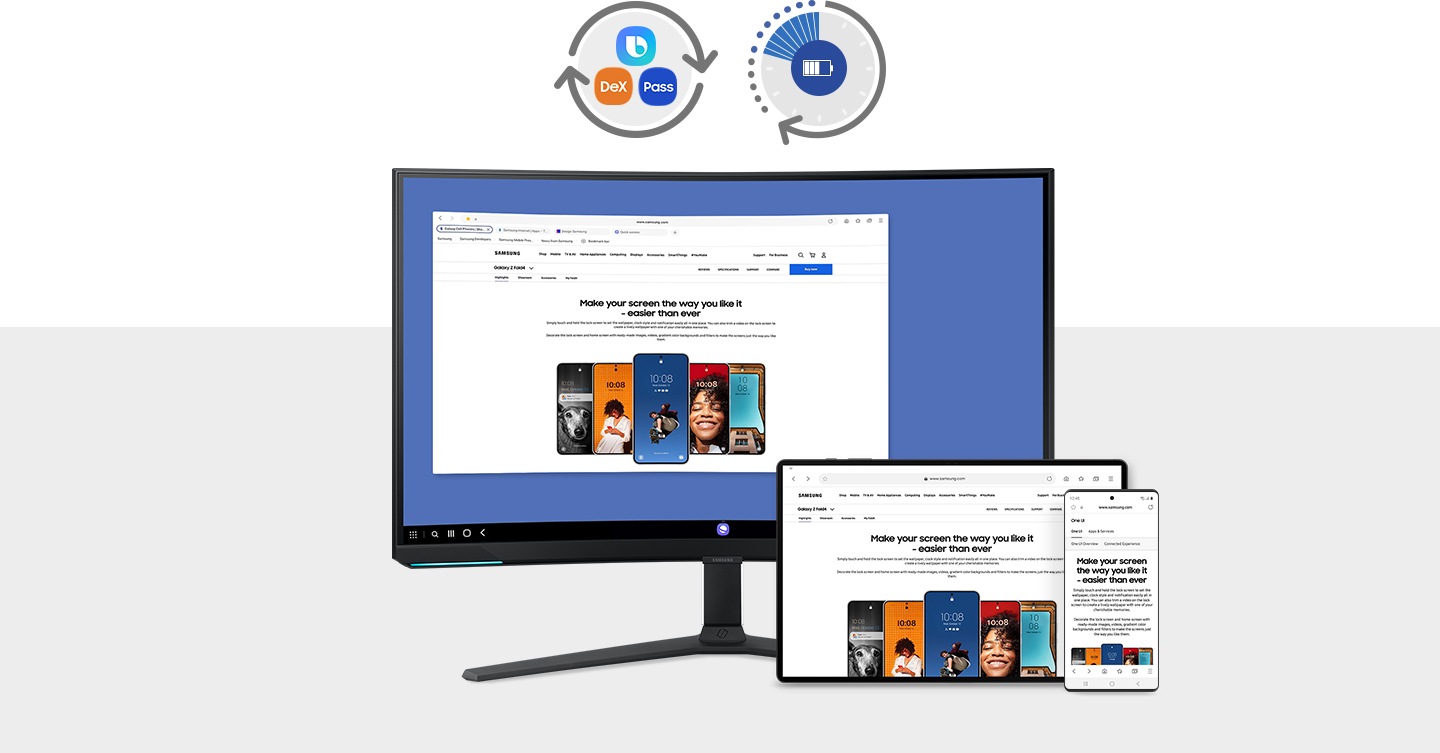 Your browser, your way!
Design a browser that works for you by choosing where to place the menu and URL bar.
A laptop and tablet screen are shown flashing through various options for Samsung Internet browser customization, with the toolbar changing position from the top of the screen to the bottom and having more options added to it.





* The "show address bar at bottom" option is available only for v16.0 or above for mobile devices and v21.0 or above for tablets.
The efficient way to browse
Bring more convenience to browsing with handy features like the Video assistant, Customize menu, and Quick access.
Video Assistant
Watch online videos your way. With Video assistant, easily view on full screen, pop-up player, or even your linked TV. Adjust volume or brightness with intuitive touch gesture controls.
* View in pop-up player unavailable on restricted webpages.

Customize Menu
Your menu, how you want it. Drag and drop to instantly change the order of the Customize menu.
Quick Access
No more searching for your favorite web addresses. Quick access displays shortcuts to the sites you want to visit every time you launch your browser.
Samsung Internet Extension
Fun and convenient mobile add-ons. Follow simple steps to unlock an enhanced browsing experience with extras like translation, security, shopping assistants, ad blockers, and more.

Translator
Stay up to date on what's happening in the world. Easily read articles or webpages in the language of your choice with the touch of a button.
* Devices with a resolution of less than 960x540 (WXGA QHD) are not supported.
* Samsung Galaxy J series devices are not supported.
* A total of 34 languages are supported. Supported languages include: English, Korean, Chinese, Spanish, German, French, Italian, Portuguese, Russian, Arabic, Bulgarian, Czech, Dutch, Polish, Japanese, Hungarian, Indonesian, Turkish, Croatian, Serbian, Rumanian, Danish, Norwegian, Finnish, Swedish, Vietnamese, 6 Indian languages (Hindi, Bengali, Gujarati, Marathi, Tamil, Telugu), Persian and Hebrew.












































Sync bookmarks across your Samsung Internet and
PC browser

Open your bookmarks on any computer using the Samsung Internet extension for PC Chrome.
* Samsung Internet extension for PC Chrome is available only for the PC browser that supports Chrome Web Store, and can be used after signing in to Samsung account.
* For more information about Samsung Internet extension for PC Chrome, please visit 'https://chrome.google.com/webstore/detail/samsung-internet/epejdmjgfibjaffbmojllapapjejipkh'
Samsung Developer
For more information on 3rd party app development, please visit our website.
Samsung Internet is available on devices with Android N OS or later.
Device and screen images simulated for illustrative purposes.