A complete washing solution
Presenting the advanced Samsung Fully Automatic Top Loading Washing Machine with
a host of features that make washing a delightful one-touch experience.


Digital Inverter Motor
Saves energy. Works powerfully. Washes silently.
The New Digital Inverter Technology automatically optimizes energy usage of the inverter motor. It delivers high-energy efficiency, minimal noise and uses up to 40% less energy**.
12 year warranty applies to WA4700NH with digital inverter motor. ** Tested on WA4700N with inverter motor compared with WA4000HH with non-inverter motor. Saves energy at Normal Cycle(15 ± 2℃, 3kg & 6kg load) based on internal data. *** Reduces noise by 3dB at Normal Cycle(Warm, 4.9kg load) based on internal data.
Built-in Sink
Extra sink for convenient soak and scrub
Take care of your delicate and heavily soiled clothes with the new built-in sink above the drum.
With wave patterns and a water jet button, it gives the perfect space for you to soak and scrub.
Magic DispenserTM
Disolves detergent better for less residue.
The Magic Dispenser that has dual propellers dissolves
the detergent in water for less residue
Magic Filter
Effective filteration for cleaner clothes.
Get cleaner clothes using the advanced filtration process of the Magic Filter. It collects lint
efficiently, even at low water levels.

Powerful Wash. Gentle on Fabric.
The revolutionary wobble technology comes with the new wobble pulsator that delivers
powerful washing performance by creating multi-directional water currents which saves
clothes from tangles, twists and knots.
Treat clothes with extra care.
The Diamond Drum's smaller water holes are embossed in diamond shaped depressions
to give a smoother and saferwash to your clothes.
Advanced features for your convenience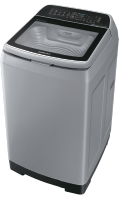 Ergonomic
Design
With an elegant round edged body and dual cluster control panel, its ergonomic design is perfect for every decor.
Easy
Troubleshooting*
The automatic error-monitoring sysytem detects problems and provides quick solutions.

3 Years Warranty on
complete machine
Use your machine with full confidence since it comes with a comprehensive 3-year warranty.

10 Years Warranty
on motor
Enjoy outstanding performance for a long time with a 10-year warranty on the Digital Inverter Motor.
* Available on Android and iOS devices & requires internet connectivity. Service callouts will occasionally be required and may incur extra repair costs.
Features may vary from model to model. Terms and conditions apply on 3 years and 10 years warranty. Images shown here are for representational purpose only, actual may vary. All features, specifications and prices are subject to change without prior notice. Model availability may vary from location to location.