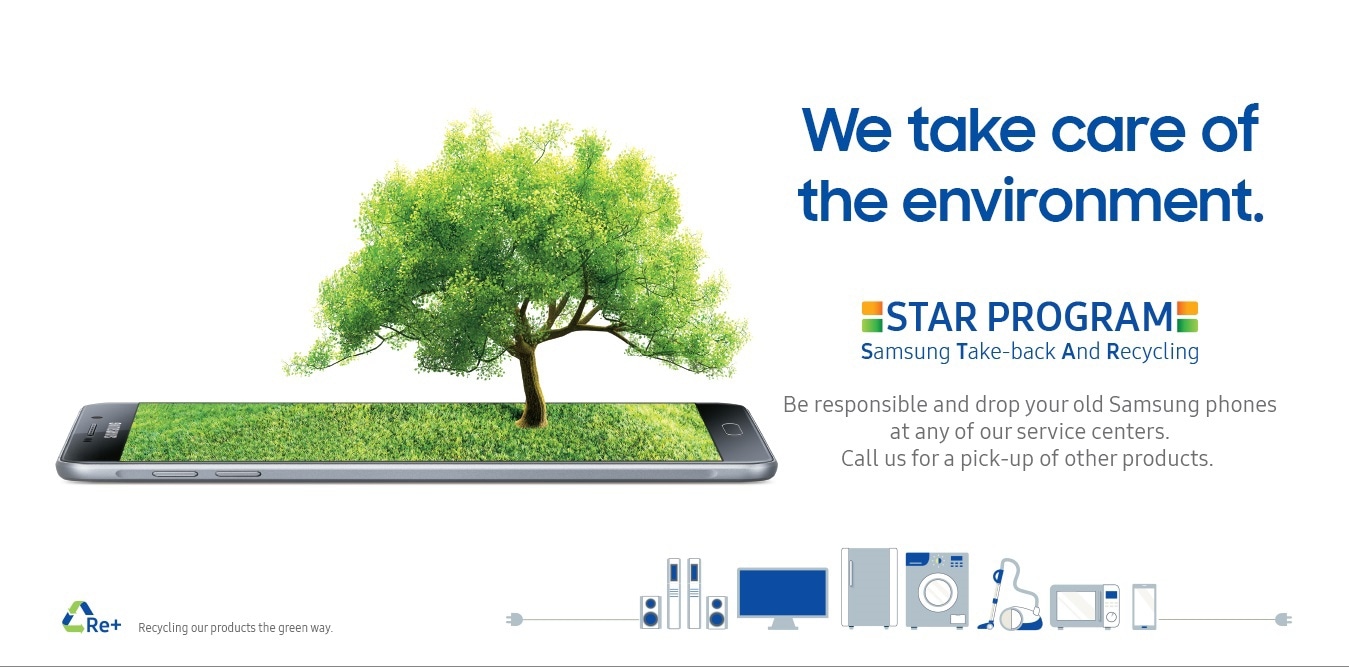 Samsung Take-Back & Recycling (STAR) Program
about us
REINVENTING FOR A GREENER TOMORROW
In our endeavor to ensure a better future, we at Samsung adopt eco-friendly innovations and practices. Acting responsibly towards the environment, we have pledged to recycle electronic items, such as TV, refrigerator, washing machine and mobiles etc. that are no longer useful. 'Samsung Take-back And Recycling' (STAR) program is an initiative towards leading a more conscious life, and taking an aware step towards conservation and optimization of resources. So, when an electronic product reaches its end-of-life, we take it back, reuse it, recycle and reinvent it.
Samsung Electronics is integrating multiple innovations into its business processes for efficient use of resources to contribute to the noble cause of environment preservation for the greater good of the society at large.
Samsung Commitment
It is our endeavor at Samsung Electronics to build a greener ecosystem through our eco friendly products, solutions and technologies that benefit customers, respect our planet and deliver a better tomorrow for the coming generations.
Globally Samsung electronics has developed a sustainable model to respect and comply with the requirements and framework for recycling and E-waste management of the country where it operates.
India has formulated and notified its strategy to tackle the E-waste through the E-waste (Management) Rule 2016. The global E-waste policy of Samsung Electronics supports recycling and remains committed to comply with India's E-waste (Management) Rules 2016.
why recycle
MAKING A RESPONSIBLE PROGRESS
Conserve Resources
Creation requires raw resources. But when we recycle, extant material is put to use. Recycling saves this extraction of the fresh raw resources, and revives the existing ones that are no longer of use. This way there is lesser exploitation and more conservation of natural resources.
Saves Energy
Each time we recycle a product, it requires lesser energy than producing a new one from the scratch. The considerable difference in manufacturing time is a result of skipping the usual process of extraction of raw material, its transportation, refining etc., which is way more than having a market ready product that to have a raw material ready for production.
Prevent Pollution
Production and disposal of products require a great deal of extraction, refining, processing and dumping of material, which have larger impact on the environment. By recycling, we cut down the pollution of air, water and land, thus reducing the green house gas emission and avoiding any contribution to global warming.
Where to Recycle
STEP AHEAD TO START THE CHANGE
Please select the 'State', 'City' and click on 'Search' button.
FAQ'S
KNOW THE STAR PROGRAM BETTER
1. What is STAR Program?
STAR (Samsung Take Back & Recycling) program is a part of the global eco vision plan of Samsung.. It is a comprehensive commitment towards environment in adherence to global recycling laws, in order to reduce electronic waste generation and encourage recycling of electronic waste collected pan India.
2. What makes STAR program unique?
Samsung has signed contracts directly with government authorized recycling companies who have committed to no incineration, land filling, or exporting of hazardous waste to developing countries.

STAR provides its consumers two convenient ways of recycling Samsung products. These include drop boxes for mobile products in all major locations and collection facility for big consumer electronics products.
3. How does STAR program work?
Samsung provides two convenient ways to consumers to get involved in Samsung's take back and recycling efforts:-

(i) Fixed drop off locations- includes numerous static locations for consumers to drop off mobile items such as mobiles, camera etc. These locations will be maintained by our authorized partners.

(ii) Collection facility for big consumer electronics products - you can avail pick-up services for television, refrigerators, washing machines etc. by calling Samsung contact center 1800 40 SAMSUNG (1800 40 7267864) or write to us at ewasterecycling@samsung.com.

Regardless of the method, no fee is charged from the consumer for giving the goods for recycling.
4. What all consumer electronics are accepted by Samsung for recycling under E-waste (Management) Rule 2016?
All Samsung branded consumer electronics & items sold in India, ranging from TV, DVD, home theatre, audio devices, mobile phones, laptops, cameras, camcorders, computer monitors, printers, peripherals and home appliances are accepted for recycling.
5. How does Samsung ensure safe recycling of consumer electronics products and its components?
It is ensured by selecting recyclers who do not incinerate, send to solid landfill or export toxic waste (defined in a manner consistent with the commonly accepted definitions of hazardous waste) to developing countries.

This is further enforced by ongoing audits and inspections of recycling operations and processes.
6. Do consumers have to pay for getting their electronics recycled ?
Consumers do not have to pay any fee for recycling of Samsung electronic products sold/used in India.
7. Is there any monetary benefit/discount linked to this take-back and recycling program?
As of now there is no monetary benefit/discount linked to this program. The main benefit of this program is cleaner, safer and greener environment.
8. What are the negative effects of improper recycling and dismantling of old electrical & electronic items?
(i) If the material is not disposed in proper manner, then it may cause health risks and damage to environment.
(ii) Presence of heavy metals such as cadmium, lead etc and other toxic substances may pose risk to health and environment.
(iii) Hazardous substance like mercury in cold cathode fluorescent lamp (CCFL) in LCD TV, lead in CRT etc can cause serious harm to environment if directly exposed to the atmosphere.
(iv) Batteries contain hazardous elements which may affect the health & environment, if not disposed off properly.
9. How to safely handle the product while disposing off??
(i) Old defective product should be kept separately from other products.

(ii) Product should not be dropped in garbage bins containing municipal waste.

(iii) It should be handed over to manufacturer or authorized recycler for safe recycling.

(iv) Product should not be handed over to any recycler who does not have proper recycling facilities or authorization from government.
10. What are health hazards and effects on environment if the product is dismantled by the consumer themselves?
All electronic products are safe to use, but if consumer dismantles or breaks them, they might be exposed to health hazards due to the chemical substances present in the products, which further can pollute the environment.
Recycling Directions
Recycling is the first step towards environment protection.
We have a passion for creating products and services that deliver on the promise of innovation, enable people's imaginations and do right by the environment. These virtues are exemplified by our Samsung Recycling Direct [SM] program, which affords consumers a number of smart ways to help make the world a better, cleaner place.

We've partnered directly with respected take-back and recycling companies that do not incinerate, send to solid waste landfill, or export toxic waste (defined in a manner consistent with the commonly accepted definition of hazardous electronic waste) to developing countries.