The use of Happy hour function in AC
Last Update date :
Oct 13. 2020
Happy hour function :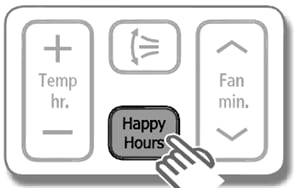 "Happy hour" is a special function that allows you to keep the humidity and temperature of your room at the most comfort level.
How to use the "Happy hour" function?
Following are the steps to use the happy hour function most efficiently:
● Press the happy hour function in the remote controller as shown above when the air conditioner is operating in the "Cool" mode.
● The segment "cool + turbo" appears automatically for 30 minutes on the remote controller display.
● After 30 minutes "Cool" indicator appears for 2 hours.
● After 2 hours "Cool+Smart saver" indicator appears on the screen.
● 3 hours later , the Happy hour mode is set off automatically.
Happy hour operation :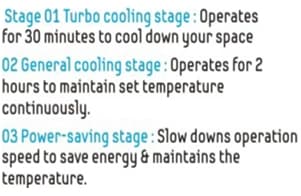 Notes :
● Happy hours function is available only in the "cool" mode.
● When happy hours button is activated ,Temperature sets automatically and the HH will appear on the remote controller display as shown below.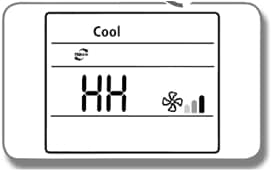 ● If you press the mode button when the happy hour function is on, it will cancel the function.
Please answer all questions.