What are the features of Samsung 'Smart Oven'?
Last Update date :
Oct 13. 2020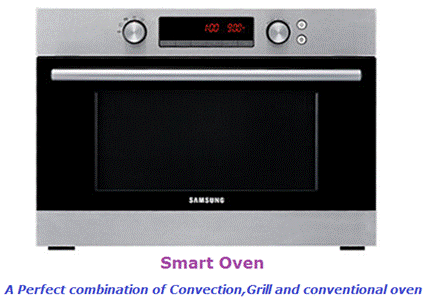 Living smart is an acquired art and nobody helps you appreciate it better than the new Smart Oven. Sleek couture style mingles with innovation technology to dish up a cooking experience like never before.
Child lock
Totally childproof, the smart oven comes with special safety locks to keep your precious little ones away from any danger.
Easy cooking
With the world's first 2 dimensional barcode scanning system, and host of pre-programmed recipes, everyone can become a great cook. The scanner reads the smart codes printed on food packaging, The simple manual controls allow you to cook your favourite meal easily. Its smart and fast.
Compact design
Big inside, compact outside! Designed by the renowned international industrial designer – Jasper Morrison, the smart oven is delightfully compact, but packs a lot more cooking space then others. It renders itself naturally for counter top installation.
Speed cooking


4 times faster than a conventional oven, the smart oven gives you the freedom to utilise your time for a far more important things.
Easy cleaning
Keep your oven as spotlessly clean as new. The smart oven comes with powerful steam clean feature, which is further enhanced with a ceramic enamel interior and top dual movable heaters.
Drop down door
The oven door is especially designed to be light with a soft and smooth open/close feature. So that opening the oven is as pleasurable as cooking in it.
Please answer all questions.