What is Double Storm Pulsator in Samsung Washing Machine?
Last Update date :
Oct 29. 2020
By rotating an inner and outer blade at different speeds, two powerful currents of water created that ensure that clothes get clean with less damage than a conventional washing machine. The tornado like water currents enhance both washing and rinsing power while reducing unnecessary fractions and in creating both the durability of your fine fabrics by preventing the laundry from getting twisted and knotted.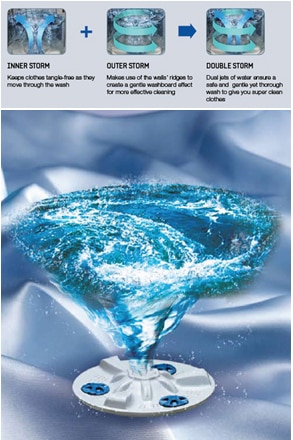 The outcome of Samsung's revolutionary pulsator technology, Double Storm produces better results with a constantly variable and powerful water wave effect that moves clothes through the wash cycle without unnecessary entanglements. Double Storm with SAMSUNG'S new pulsator technology sets a new standard of cleanliness. 
Inner Storm - Keeps clothes tangle-free as they move through the wash. 
Outer Storm - Makes use of the walls' ridges to create a gentle washboard effect for more effective cleaning. 
Double Storm - Dual jets of water ensure a safe and gentle yet thorough wash to give you super clean clothes. 
The advantages of Double Storm pulsator are as follows: 
● Powerful dual water jets for thorough cleaning.
● Dual jets of water from independent pulsators create multi-dimensional water currents to ensure deep cleaning. Tangle-free clean with unique pulsation.
● Inner and outer blades rotate to create 2 powerful water currents.
● Tornado like currents enhance washing and rinsing power.
● Clothes do not get tangled, knotted or twisted. A new spin on washing.
● Revolutionary innovation in washing technology.
● Powerful pulsating technology coupled with an innovative ridged inner drum enables cleaner results with less damage to clothes. Super dry technology with a 10 minute spin dry time.