What is Fuzzy Logic in a Washing Machine?
Last Update date :
Aug 24. 2022
Attention : If even after following the procedures below, your problem is not resolved, please contact us via  
  WhatsApp so that we can quickly diagnose your device and help you in the best possible way.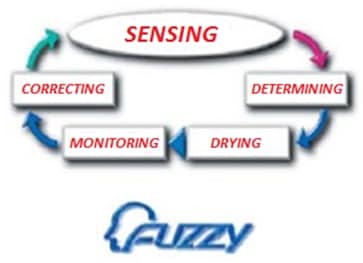 ● Fuzzy logic washing machines are gaining popularity. These machines offer the advantages of performance, productivity, simplicity, productivity, and less cost. Sensors continually monitor varying conditions inside the machine and accordingly adjust operations for the best wash results. As there is no standard for fuzzy logic, different machines perform in different manners.
● Typically, fuzzy logic controls the washing process, water intake, water temperature, wash time, rinse performance, and spin speed. This optimises the life span of the washing machine. More sophisticated machines weigh the load (so you can't overload the washing machine), advise on the required amount of detergent, assess cloth material type and water hardness, and check whether the detergent is in powder or liquid form. Some machines even learn from past experience, memorising programs and adjusting them to minimise running costs.
● Most fuzzy logic machines feature 'onetouch control.' Equipped with energy saving features, these consume less power and are worth paying extra for if you wash full loads more then three times a week. Inbuilt sensors monitor the washing process and make corrections to produce the best washing results.
● The fuzzy logic checks for the extent of dirt and grease, the amount of soap and water to add, direction of spin, and so on. The machine rebalances washing load to ensure correct spinning. Else, it reduces spinning speed if an imbalance is detected. Even distribution of washing load reduces spinning noise. Neuro fuzzy logic incorporates optical sensors to sense the dirt in water and a fabric sensor to detect the type of fabric and accordingly adjust wash cycle.
Please click the submit button below to share your feedback with us. Thank you for your participation.
Please answer all questions.