When the remote control is not working.
Last Update date :
Apr 28. 2021
When remote control does not work properly, please follow the below steps: 
1
Check the Remote batteries.
Remove the batteries from the remote control and insert them after 30 seconds.
Make sure the +/- poles are exact.
If still not working, change the batteries.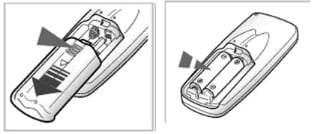 2
Check Remote control using Mobile camera .
Push any button on the remote control while taking a picture of sending part of the remote control using camera.
Check if the light is ON at the sending part of the remote control. If the light is ON, the remote control is normal. Otherwise, it is faulty.
3
Check if there is any obstacle between remote control and AC.
Please remove the obstacle. The product couldn't recieve the signal from the remote control if there is any obstacles between them.
4
Check if there is any bright lights nearby.
Please check whether remote control is working properly after removing the light.
If there is a bright light like a 3-wave light, neon light near the set or remote control, the product couldn't operate with remote control because of jamming.