why crushed ice is dispensed when Ice cube mode is selected in samsung french door ref?
Last Update date :
Oct 13. 2020
Note: This help content is only applicable to the product purchased from Indian retailers. If you require help for the products purchased from US, Kindly visit Samsung US support section and for other countries, kindly contact your local Samsung Subsidiary.
The Samsung French Door Refrigerator (RFG28MESL) will dispense crushed ice even when it is set to dispense whole cubes under the following conditions:
• When there's some crushed ice left over from when the icemaker was previously set to crushed.
• When the cubes are breaking when they are transferred from the Ice tray to the Ice bin.
• When the cubes with internal flaws have cracked and are breaking when jostled in the ice bin as the auger attempts to feed them.
• When a buildup of frost is preventing the icemaker from mechanically switching from Crushed mode to Cubed mode.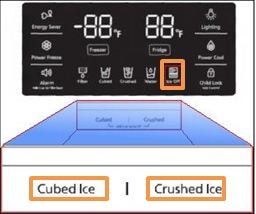 (Crushed Ice/Cubed Ice button)
To remedy the issue, follow these points :
• Empty out the ice bin, and then make sure it is free of frost.
• Flush the ice bucket with hot water and allow it to dry.
• Allow it to remake the supply of ice.
• Dispense ice.
Please click the submit button below to share your feedback with us. Thank you for your participation.
Please answer all questions.