Why is Water not draining properly from the Washing machine?
Last Update date :
Jun 23. 2022
Attention : If even after following the procedures below, your problem is not resolved, please contact us via  
  WhatsApp  so that we can quickly diagnose your device and help you in the best possible way.
Note: This help content is only applicable to the product purchased from Indian retailers. If you require help for the products purchased from US, Kindly visit Samsung US support section and for other countries, kindly contact your local Samsung Subsidiary.
Check the following if water does not drain from the washing machine.
Is the drain hose down?
● If  the drain hose is lower than the washer's cabinet,install air-gap /siphon break assembly.

● The below diagram shows the exact position to install a drain hose.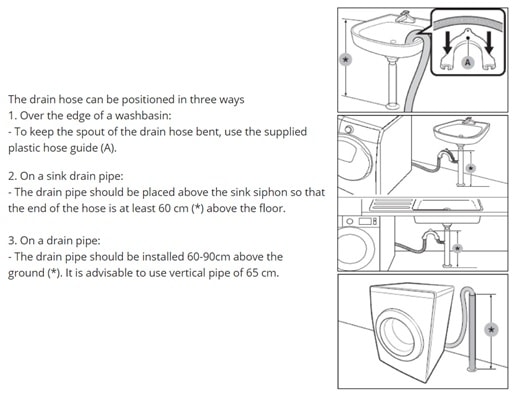 Is the drain hose frozen?
● If your washer doesn't drain water out,  but the motor is running, your washer probably has a frozen drain hose.
● Please disconnect the drain hose from the washer's cabinet, and rotate the drain hose manually.If  the drain hose doesn't rotate freely, then it's frozen. Please replace it.
Is the drain hose clogged?
● If your washer spins, but doesn't pump the water out, the drain hose is probably clogged.
● In many washers, a small sock or other piece of clothing can get between the clothes tub and the outer tub that holds the water. If the clothing gets between the tubs, it may then get into the drain hose that's attached to the pump or even into the pump itself. If it's in the pump, you need to remove the hoses from the pump and pull the item out.
How to know that water is not draining out?
If the water is not draining in 6 minutes, a buzzer will sound and the remaining time indicator will show 'E' as shown above. This error code is the signal that the water is not draining out properly.

Please check the below Videos for Water supply and drainage issue:
Please answer all questions.