Galaxy S10: Super Slow-mo
Last Update date :
Oct 29. 2020
The Galaxy S10 and S10+ is perfect for capturing those action shots wherever you go. It can record more at a real 960 frames per second with HD support. You can record approximately 0.4 seconds of video captured at 960 fps with approximately 12 seconds of playback or record 0.8 seconds of video captured at 480 fps and digitally enhance the video to 960 fps with approximately 24 seconds of playback.

While recording in Super Slow-mo on the Galaxy S10 and S10+, it shows option to enable a Motion Detection box. You can adjust this box accordingly to automatically record in Super Slow-mo when an object enters this box. Once the action has been recorded, your video will automatically stop.

Once you have selected Super Slow-mo, 4 options will pop up on the top of the screen. Tap the motion detection icon to enable it. Once Motion detection is enabled you'll be able to edit the motion detection box to where the movement will be in the shot.
When you have recorded your Super Slow-mo video you can try editing by either moving the video forward, reverse or forward and reverse. Simply select the 3 dot menu button in the top right, then select Details and choose one of the three Super Slow-mo clips.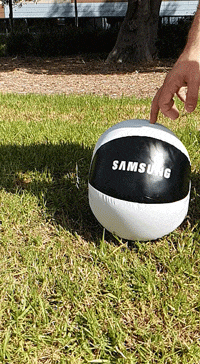 Super Slow-mo video has been shot on the Galaxy S10 with 0.8 seconds of Super Slow-mo captured in natural light. For best results, try recording in bright natural light as artifical lights may cause flickering. If you do notice flickering in the playback of the Super Slow-mo video, you can enable Remove Flickering. This will minimise the amount of artifical light flickering within the video playback.
Steps to enable Remove Flickering option :
* Simply play Super Slow-mo video.
* Tap on the 3 dots menu in the top right.
* Select Remove Flickering.
Please answer all questions.