Using the Radio app on my Samsung phone
Last Update date :
Oct 29. 2020
Use the pre-installed radio app on your compatible Galaxy phone to listen to your local radio without the use of connecting to the internet. Follow the below guide for step by step instructions on setting up the Radio on your Samsung phone.
Please Note: This guide is designed for Indian variant Galaxy devices, if you have an international Galaxy phone and require further support click here to get in touch with your Samsung subsidiary.
1
Tap on the

Radio app.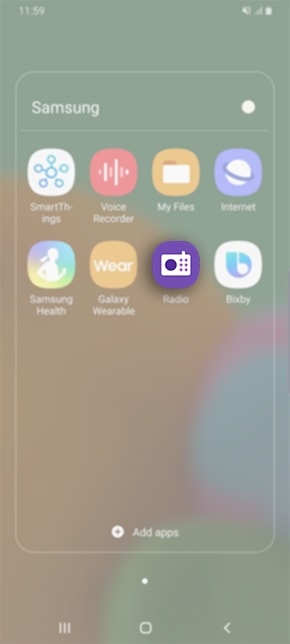 2
Connect your wired headphones to activate the radio. The wire acts as an antenna.
3
Once the headphones are connected, the radio will start to auto scan available radio stations.
4
When the scan is complete you can tap on

and
arrow keys to search through the available radio stations.
5
To turn your radio on and off tap on the
Power button.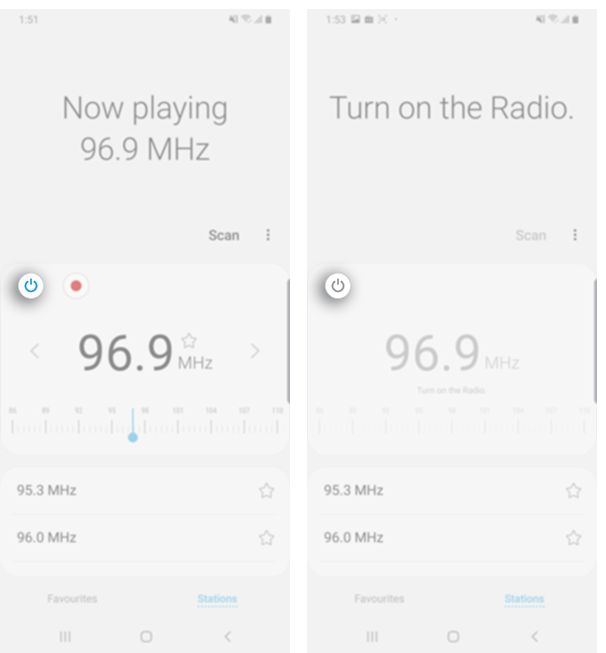 Setting Favourites
1
To save a radio station to your favourites list tap on the

beside your preferred radio station.
2
To view your Favourites list, tap on the Favourites option at the bottom of the screen and scroll through your saved list.
Enable Play radio through speaker
1
Tap on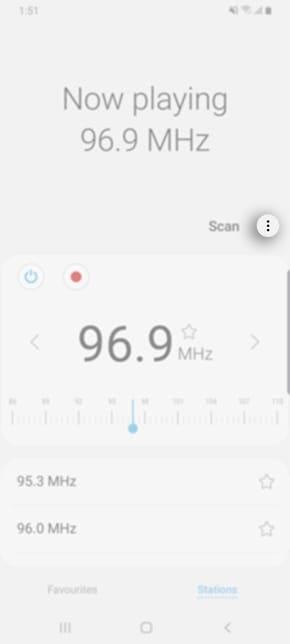 2
Select Play through speaker
Ensure that you still have your wired headphones connected to your device as the headphones act as an antenna. If you do disconnect your headphones your radio will automatically turn off.
Using the Record function
1
Tap on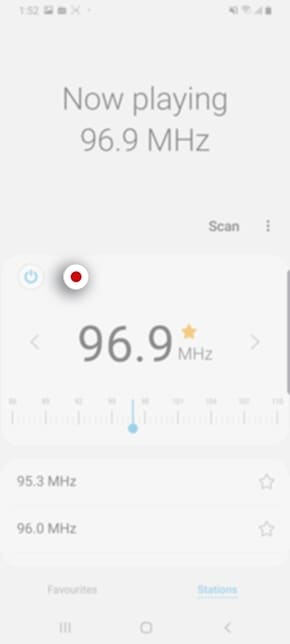 2
Allow the pop up permissions
3
Once you have allowed the pop up permissions you will then be able to record your selected radio station. To stop the recording tap on the
Stop button.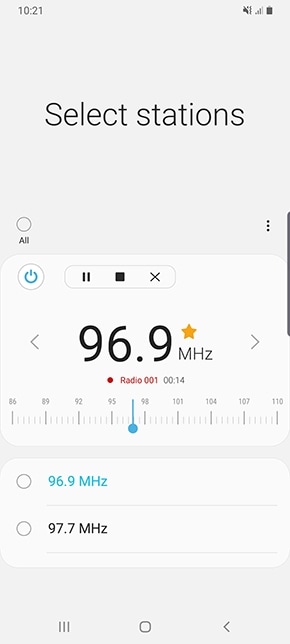 Tap on the Pause button to pause the recording.
 Tap on the Close button to stop the recording. If you close the recording, you will not be saving what was recorded.
4
Name and save your recording, tap on OK to save your recording.
5
To view your recordings tap on
6
Select Recordings
7
Touch a recording file to start listening.