What are the Smart modes available in Samsung Smart Cameras?
Last Update date :
Oct 14. 2020
Smart mode in Samsung cameras enables you to capture professional-like photos quickly and easily using these predefined modes mentioned below. Your device provides you with several predefined professional photo capture modes called Smart modes. These modes allow you to quickly capture many scene and subject scenarios with professional-like results easily.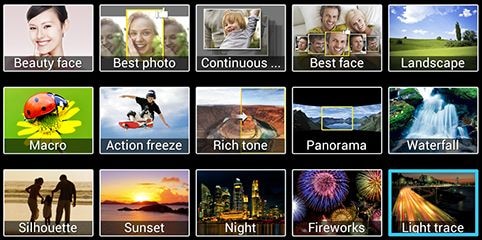 ● Beauty face: Corrects facial imperfections automatically when taking portraits.
● Best photo: Select the best photos when you take a series of photos.
● Continuous shot: Take photos continuously at a rate of four per second, with a maximum of 20 photos.
● Best face: Select the best photo of each person from five consecutive photos and merge into one best photo.
● Landscape: Take photos that emphasize the landscape and sky by making the green and blue more intense.
● Macro: Take photos of close objects or text.
● Action freeze: Take photos of fast-moving subjects, such as capturing photos at sporting events.
● Rich tone: Take and merge photos in various exposures to create soft and rich colors.
● Panorama: Take panoramic photos made up of a maximum eight consecutive photos.
● Waterfall: Take photos of waterfall and flowing water using a long exposure.
● Silhouette: Take photos of silhouettes with backlighting.
● Sunset: Take photos that emphasize the sunset by making the colors more intense.
● Night: Take photos by combining photos to get a brighter, clearing photo in low light, without flash
● Fireworks: Take photos of fireworks using long exposure at night.
● Light trace: Take photos of light trails using long exposure at night.
Last Updated on: 1/1/2014