What is a Samsung Dock(EDD-D200BE)?
Last Update date :
Oct 13. 2020
Samsung Dock ( EDD-D200BE ) is a Galaxy Universal Multimedia Desktop Dock designed specifically for Samsung's line of Galaxy mobile phones. The Samsung Galaxy Multimedia Music Dock offers a desktop charging solution that allows you to stream music to a stereo or home theater system via the built-in 3.5mm audio port while your device charges.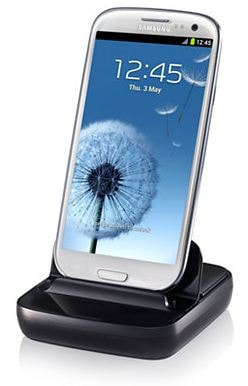 ( Samsung Galaxy S3 with Dock )
It is specifically built to accommodate a Samsung Flip Cover so you can charge your phone without removing your device from your Samsung case.
NOTE : Samsung Dock ( EDD-D200BE ) is compatible with Samsung Smartphones between 4.0 inches and 5.3 inches in diameter.
Thank you for your feedback!