Getting used to Samsung's Smart Touch Control keys.
Last Update date :
Oct 13. 2020
Samsung provides Smart Touch Remote control with their Flagship models of F series which can be used to control multiple devices connected to your Smart TV, including the Set top box, Blu-ray player and Home Entertainment System. The innovative Touch Pad allows quick and intuitive navigation, while the built-in Microphone provides an alternative way to control your Smart TV with your voice.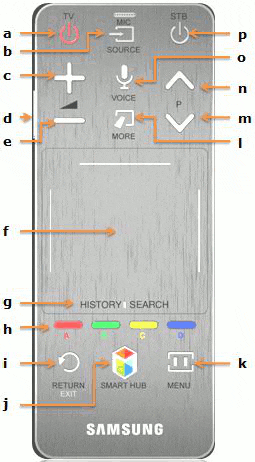 a) TV:

Turns the TV on/off.





b) SOURCE:

Changes the source.





c) VOLUME UP:

Adjust the volume up.





d) MUTE:

(i) Turns the TV sound on/off.
(ii) Press and hold this button to turn the Caption on or off.



e) VOLUME DOWN:

Adjust the volume down.





f) TOUCH PAD:

(i) Drag your finger on the touchpad as you would on the touchpad of a laptop tomove the focus displayed on the screen. To select item, press the touchpad.
(ii) Press and hold the touchpad while watching TV to display CH List on the screen. In addition, you can press and hold the touchpad for 2 seconds or more while an application is running to access the application's hidden features. (Not available with all applications.)



g) HISTORY:

Shows the history of content played.





h) COLOUR KEYS:

The colour buttons work differently, depending on the function that the TV is currently performing.





i) RETURN/EXIT:

(i) Returns to the previous menu.
(ii) Press this button to quit the current process or app.



j) SMART HUB:

Launch Smart Hub. While an application is running, pressing the button terminates the application.





k) MENU:

Opens the OSD Menu.





l) MORE:

(i) Displays the virtual remote panel on the screen. The the virtual remote panel consists of a number panel, a colour and playback control panel, and a quick access panel. Use the touchpad to select numbers and buttons.
(ii) Press the touchpad to select a desired function (e.g. MENU, TOOLS, INFO, etc.) easily.



m) CHANNEL DOWN:

Changes the channel down.





n) CHANNEL UP:

Changes the channel up.





o) VOICE:

Run Voice Recognition. To speak a voice command, press and hold the VOICE button and say a voice command.





p) STB:

Turns on and off the satellite or cable set-top box connected to the TV. For this, the Smart Touch Control must be configured as a Universal remote control.

>
Please click the submit button below to share your feedback with us. Thank you for your participation.
Please answer all questions.