QLED 2018: Q Picture
Last Update date :
Sep 16. 2020
Over a billion colours and unrivalled intricate details. Powered by our Quantum dot technology. Now you see colour and detail as you do in the real world.
Q Colour
Developed exclusively by Samsung, the world's first cadmium-free Quantum dots are nano-sized particles that turn light into over a billion colours on QLED TVs. Like diamonds, Quantum dots are inorganic. That means bright, vivid colours for many, many years to come.
Quantum Dot technology delivers 100% Color Volume in bright and dark scenes.
What is colour volume?
It's an index of how well colours are reproduced in richness and accuracy. It's like raising the volume on your stereo and getting full surround sound. With higher colour volume, you get a wider, more diverse range of colour.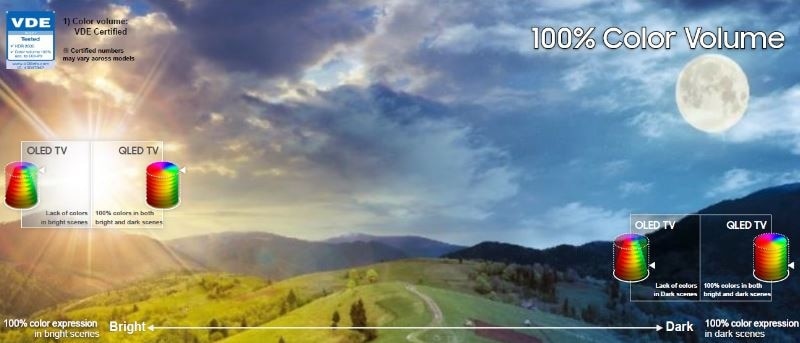 Q HDR Elite powered by HDR10+
Crisp details and bright colors, just as the director intended.
What is HDR 10+?
With HDR 10+, images are individually processed scene by scene for optimised visuals with dynamic tone mapping. That means you get rich colours, deep contrasts, and simply spectacular picture quality for every scene you watch. It allows you to see what the content producers intended you to see.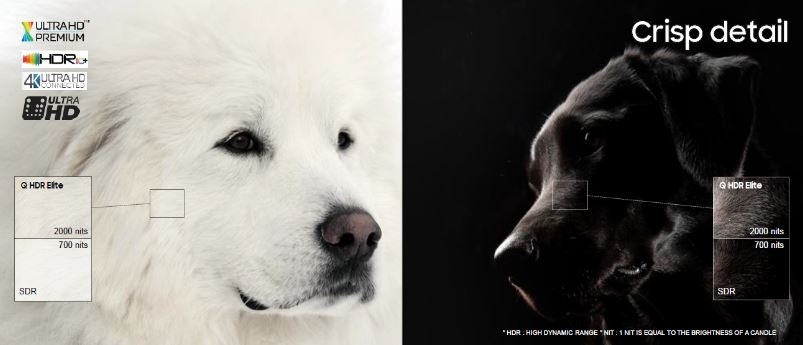 Q Engine
Q Engine instantly analyzes and upgrades every scene to have the perfect color, contrast and clarity.