What is 5.1 Channel Sound System?
Last Update date :
Oct 12. 2020
5.1 is the common name for six channel surround sound multichannel audio systems in Samsung device. 5.1 is now the most commonly used layout in both commercial cinemas and home theaters. It uses five full bandwidth channels and one low-frequency effects channel. Dolby Digital, Dolby Pro Logic II, DTS, and SDDS are all commonly 5.1 systems. 5.1 is also the standard surround sound audio component of digital broadcast and music.
All 5.1 systems use the same speaker channels and configuration as follows :
● Front Left
● Front Right
● Center Speaker
● Rear Left
● Rear Right
● Subwoofer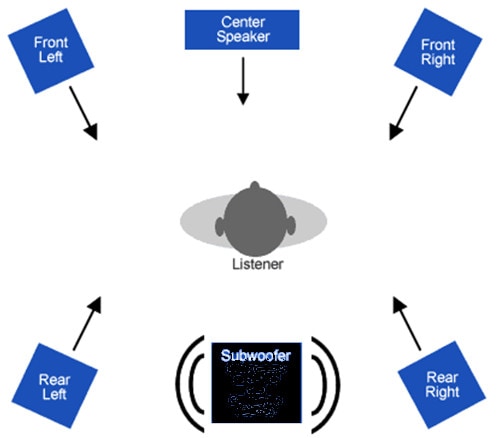 5.1 channel sound is produced when the following conditions are met :
● The DVD player should be connected with the proper Amplifier ports.
● The disc must be recorded with 5.1 channel surround sound.
● The disc being played must have "5.1" mark on the outside.
● Audio System should be connected and is working properly.
● In SETUP Menu, the Audio Output should be set to Bit stream.
NOTE : Location of the Subwoofer may vary according to the choice of the listener's entertainment. Best suitable place to place Subwoofer is either in front or rear sides of the listeners.