Bring words to life with Samsung Keyboard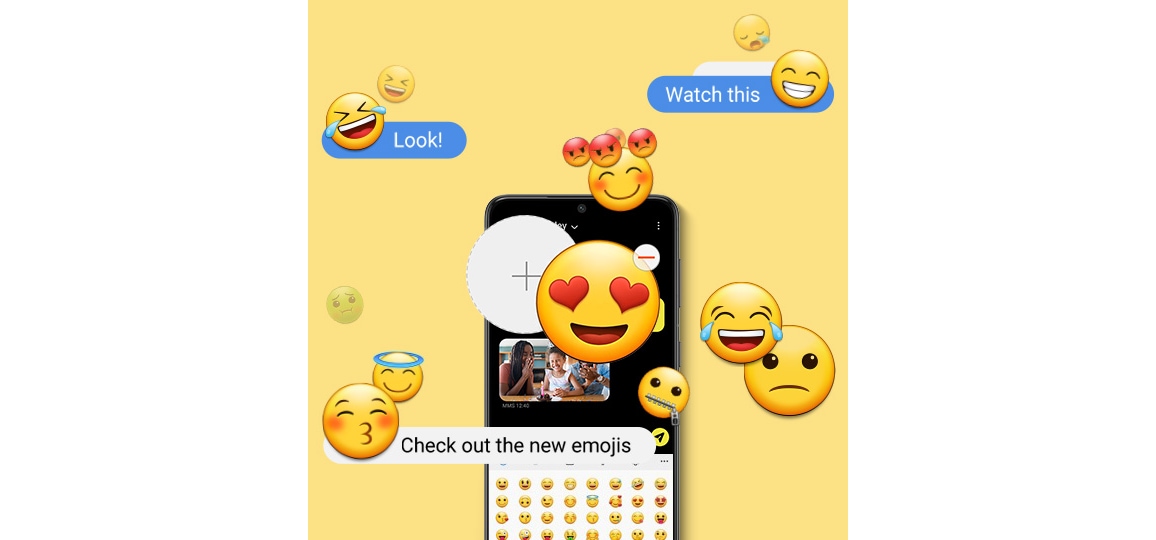 From texting to sending an email, your keyboard experience is more playful with the enhanced One UI.
Make your texts more expressive, clear, yet error-free with the new Samsung Keyboard.
Check out the new Samsung Keyboard now!
Enrich your communication
Emojis play an essential role in messaging or in social media. Make the conversations even richer with playful emojis!
1. Create your own Emoji Mashups
Sometimes it's difficult to express your emotion in one way. Now, you can mix and match two emojis and create your own emoji to spice your chat. You can also make it into a GIF to send to your friends.
2. Jazz up the conversation
Upgrade your conversation with seasonal emojis and trendy stickers. Sticker curation will recommend you a suitable sticker at the right time and place.
Seasonal Emojis and Sticker curation

Juice up your conversation with diverse stickers from Sticker curation! Follow the below steps to go to Sticker curation.
How-to: Open Samsung Keyboard > Tap
on 'Keyboard toolbar' > Tap
to use 'Sticker curation'.

Now access your favourite emojis, stickers, and GIFs all in one place! Check out 'Expression Home' to easily pull out visual elements.
Write with confidence!
Samsung Keyboard x Grammarly will bring your writing skills to the next level. Grammarly will help you correct your text error-free and will even provide writing suggestions.
1. Polish your writing
Say goodbye to mistakes. Let Grammarly correct and polish your sentence with writing suggestions.

1. Enable Writing assistant.
Go to Samsung Keyboard Settings > 'Suggest text corrections' > Enable 'Writing assistant'
2. Select apps to use Writing assistant.
Go to Samsung Keyboard Settings > Tap 'Suggest text corrections' > Go to 'Manage apps' to choose apps
Note:
*Supported only with English (US), English (UK), English (AU), English (CA). The following feature is not supported on Galaxy smartphones for China.
*'Manage apps' feature is available on One UI version 4.1 or later
User Grammarly with Galaxy!

1. Before you send important emails
2. Take notes during class
3. Before you send messages
Express yourself however you like in a smarter way with the new Samsung Keyboard.