[Gear S3] How to Increase the Battery Standby Time?
Last Update date :
Jul 29. 2022
Your Gear provides various options that help you conserve battery power. Here are 9 tips.
1. When you are not using the Gear, switch to sleep mode by covering the screen with your palm.
The screen also turns off if the Gear is not used for a specified period.
2. Activate Power Saving Mode
Learn more about Power Saving Mode
3. Close Unnecessary Apps
4. Deactivate the Bluetooth feature when not in use
Deactivate the Bluetooth feature on the Settings screen
5. Deactivate the Wi-Fi feature when not in use
Turn off Wi-Fi

6. Reduce Screen Brightness
On the Clock screen,
(1) swipe downwards from the top edge of the screen and
(2) tap brightness icon and
(3) decrease the screen brightness by rotating the bezel / control wheel.
7. Deactivate the Watch always on feature
Settings > Style > Tap the Switch to Turn Off Watch Always On
8. Deactivate Voice Wake-up feature in S Voice App
(1) Select S Voice
(2) Tap on the more options icon
(3) Turn off the Wake up S Voice feature
9. Customize Notification Settings in Samsung Gear on Mobile Device
You can set the Gear to receive notifications from the mobile device for a variety of events, such as missed calls or new messages. But to help reduce Gear S3 battery consumption, you can select just those notification types you really want to be notified of.
On your mobile device, tap Samsung Gear → Notifications → Manage notifications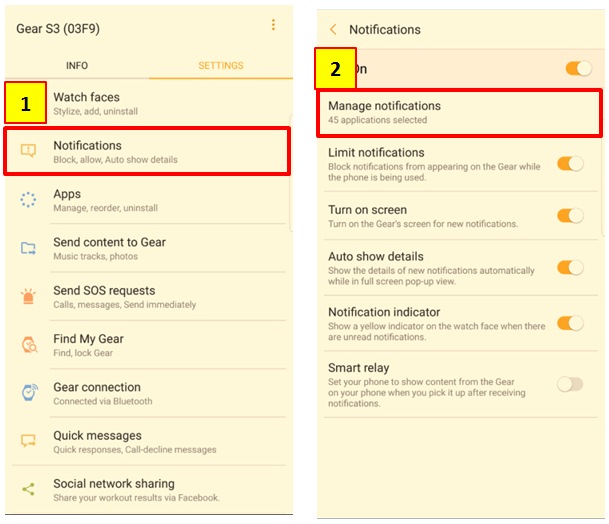 (3) select apps you wish to receive notifications on the Gear
(4) Additionally, if you turn on Limit notifications, it sets the Gear to block notifications when the mobile device's screen is turned on.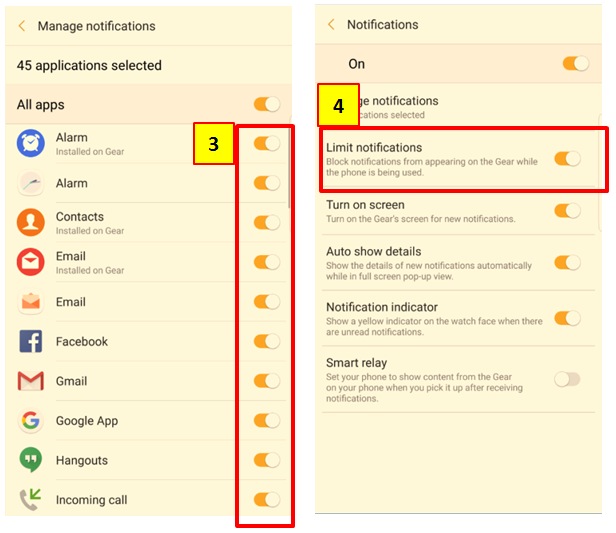 Please answer all questions.