How do I move photos videos and other media on my Samsung Galaxy Note 3 to a PC?
Last Update date :
Nov 23. 2020
Kies for PC
1. Open the Samsung Kies software.
2. Connect your device to your PC using the supplied USB cable.
Your device should connect and show in the left panel of Kies. You may need to change the USB settings if you cannot connect. Swipe your finger from the top of the screen to the bottom to open the Notification Panel and touch Connected as a camera. Touch Media device (MTP) to change the USB settings. The Notification Panel should show Connected as a media device, as shown below.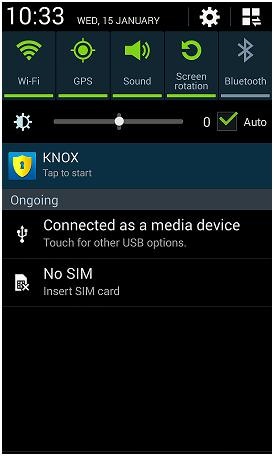 4. Click Photos or Videos under your device's name in the left panel.
5. If necessary, click
to switch to list view.
6. Mark the checkbox next to the photos or videos you want to save to your computer.
7. Click

to save the selected photos or videos to your computer.
8. Choose the location to which you would like to copy the selected files.
9. The selected pictures or videos will be transferred to your computer. You can view them by clicking Photos or Videos under Library in Kies or by opening the folder you selected in the step above.
Please answer all questions.