A Showcase of Freshness
For longer-lasting foods
Fresher food means more nutritional value. Twin Cooling technology, helps what's inside your refrigerator stay fresh. So you can create healthier, more delicious meals with less waste.
Fresh produce. Picking the best for your table
Freshness always delivers more flavour to your food. Here's how to select the healthiest, highest quality ingredients.

- Vegetables and fruits: Avoid produce that has brown spots, wrinkled skin and mold.
- Meat: Beef should be red, not brownish, free-range chickens and female ducks are tastier than male ducks.
- Fish: Look for clear eyes, a shiny skin, reddish gills and a fresh odour.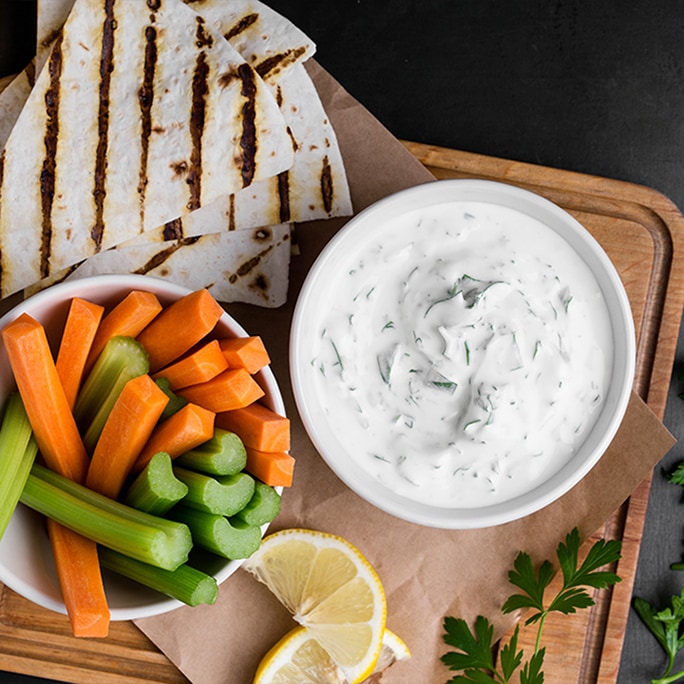 Delicious ways to dress up veggies
Good dips make vegetable much more appealing for both kids and adults alike. Enjoy your carrot sticks with peanut or almond butter for a high-protein-snack. Celery has a mild watery flavour that tastes so much better when you dip it into garlic or herb sauce. Spread Greek inspired hummus over cucumber slices. It's the perfect appetiser – delicious and healthy.

Vitamin-packed smoothies
Power-packed with immunity-boosting nutrients, smoothies are an excellent way to start your day. Here are some of the vitamins their most popular ingredients contain.

- Vitamin C: Oranges, kale, lemons, spinach, guava, mango, pineapple, kiwifruit and strawberries
- Vitamin B: Chickpeas, bananas, squash, spinach, tofu, watermelon and nuts
- Vitamin E: Almonds, peanuts, spinach, avocado, mango, pumpkin, sunflower seeds
Free up more freshness
Samsung refrigerator's Twin Cooling plus, helps food stay fresh.