How do I install the SIM or USIM card on Tab S4
Last Update date :
Nov 23. 2020
Please Note: The information on this page is for New Zealand products only. Sequences or settings will vary depending on location and/or where the product had been purchased. To be redirected to your local support page please click here.
Please note:  
There are 2 models of the Tab s4, please ensure you are using the Tab S4 (4G) model. There is no slot for a simcard on the Tab S4 (Wi-Fi) model.
Use only a nano-SIM card with this device

Use caution not to lose or let others use the SIM or USIM card. Samsung is not responsible for any damages or inconveniences caused by lost or stolen cards.
Some LTE services may not be available depending on the service provider. For more information about service availability, contact your service provider.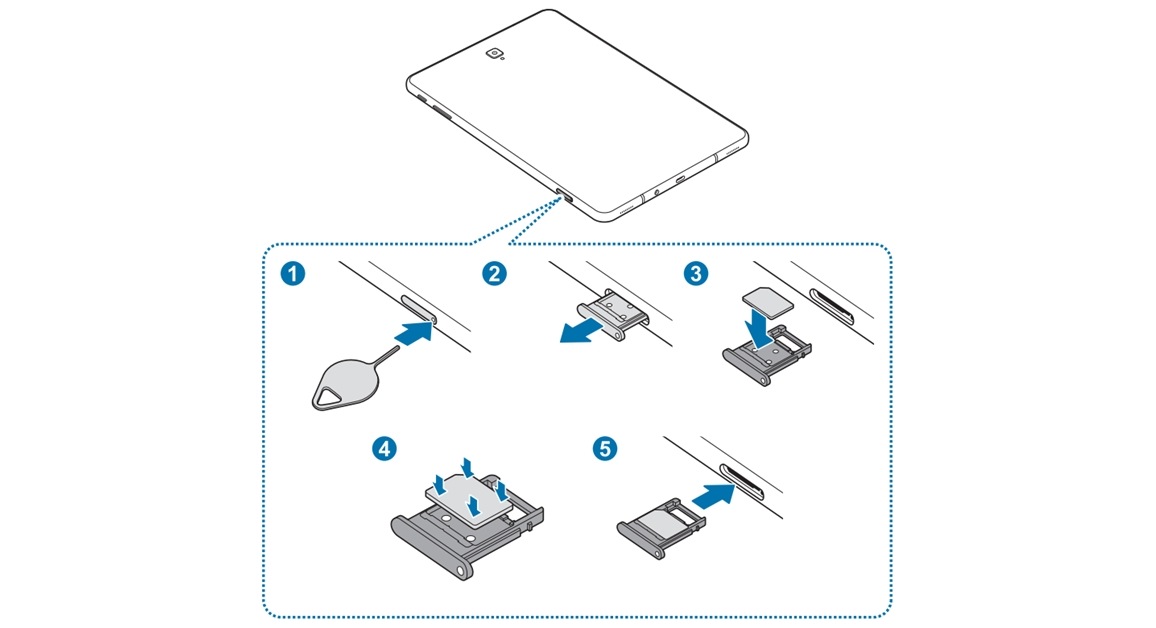 1
Place the device with the bottom facing upwards.
2
Insert the ejection pin into the hole on the tray to loosen the tray.
Please note: Ensure that the ejection pin is perpendicular to the hole. Otherwise, the device may
be damaged.
3
Pull out the tray gently from the tray slot.
4
Place the SIM or USIM card on the tray with the gold-coloured contacts facing upwards.
5
Gently press the SIM or USIM card into the tray to secure it.
Please note: If the card is not fixed firmly into the tray, the SIM card may leave or fall out of the tray.
6
Insert the tray back into the tray slot.
Please Note:
• If you insert the tray into your device while the tray is wet, your device may be damaged. Always make sure the tray is dry.
• Fully insert the tray into the tray slot to prevent liquid from entering your device.
You can download the user manual from our Manuals & Downloads page. For all other queries or further technical assistance, please call Samsung Customer Care on 0800 726 786 or Live Chat with our Technical Team online, services are open 24 hours, 7 days.