About Always-On-Watch feature | Support
Last Update date :
Aug 04. 2022
With the Always On Watch feature, there's no need to press a button or turn the bezel on a Galaxy Watch or some Gear watches to show the time. Set the display to show at all times, letting you see the time whether it's day or night. An active second hand has also been added to some watch faces for a further the sense of realism. Using the Always-On feature will increase battery consumption significantly.
Please Note: This guide is designed for New Zealand variant Galaxy devices, if you have an international device and require further support click here to get in touch with your Samsung subsidiary. Screenshots were caotured from a Galaxy Watch4, settings and steps may vary between Samsung Watches.
Using Quick Settings Panel
1
Swipe up on your Galaxy Watch4 screen and tap on Settings
2
Tap on Display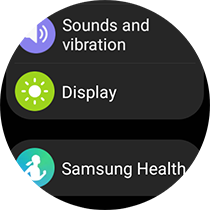 3
Toggle on Always on Display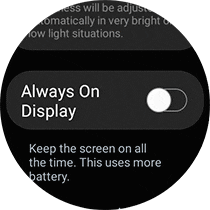 Using Watch Faces Settings
These steps are designed for Galaxy Watches operating on One UI Watch version 2.0.
1
Swipe down on your screen to view your and select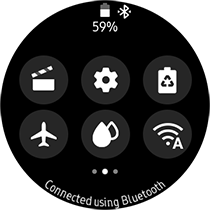 2
Tap on Watch Faces
3
Select the Watch Always On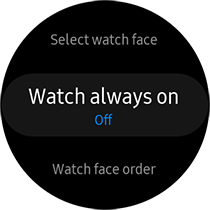 4
Toggle on or off to suit your preference
5
If you have enabled Watch always on the watch face will always be displayed
Note: Devices will have pre-loaded watch face options but you can also download additional watch faces via Samsung Galaxy Wearable app or Samsung Galaxy Watch app on iOS.
If you are experiencing unusual behavior on Samsung mobiles, tablets or wearables, you can send us a question in the Samsung Members app. 
This allows us to take a closer look at what is happening. The data is anonymized and only held for the duration of the investigation. Find out more about sending an error report through the 'How to use the Samsung Members app'.
Please click the submit button below to share your feedback with us. Thank you for your participation.
Please answer all questions.