Find the IMEI, Serial & Model Number on Galaxy Mobile
Last Update date :
Jul 25. 2022
All mobile devices have a unique identity that is made up of an IMEI number, serial number, and model number. Depending on your device model, there are a few different ways to find out this information.
Before you try the recommendations below, be sure to check if your device's software and related apps are updated to the latest version. Please check the following steps on how to update your mobile device's software.  
Step 1. Go to Settings > Software update.
Step 2. Tap on Download and install.
Step 3. Follow the on-screen instructions.
Note: Device screenshots and menus may vary depending on the device model and software version.
There are a few ways to find your device details. Please see below information on how to locate details of your device.
Steps via Settings menu
Note: Screenshots below were taken from Android OS Version 9.0 (Pie).
1
Access your Quick Settings and tap on the Settings cogwheel.
2
Navigate and tap on About phone.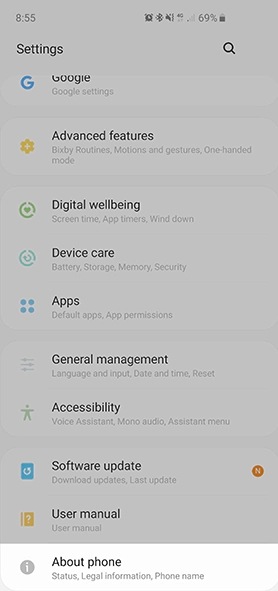 3
The Model Number, Serial Number and IMEI will be displayed.
Steps via Phone app
Note: The screenshot may look different to the screen displayed on your device according to the Android OS Version your device is currently running. 
1
On the Home Screen, tap on the Phone app.
2
On your phone keypad dial *#06#.
3
The IMEI and Serial Number will be displayed on your screen.
Steps via Back View
1
Look at the back of your phone.
2
The Model Number, Serial Number and IMEI are printed on the back of your device.
We would love to know your feedback to help us improve. Please click the submit button to tell us what you think.
Please answer all questions.