New features added to Galaxy Note9 intelligent camera
Last Update date :
Jul 25. 2022
Capture your best moments with the new revolutionary intelligent camera.
Screen Optimizer
Scene Optimizer intelligently detects the subject in frame. It then chooses from twenty different modes like flowers, food, and more, and enhances the picture to suit your subject.
Real-Time intelligence assists users to take the best pictures.
Automatically recognizes 20 scenes by analyzing objects, scenery, and time.
Flower: Makes the photo more vividly by adjusting the color, contrast, and brightness.
Sunset: Optimizes the photo by reducing the brightness and adjusting the red color.
Increases the saturation level to emphasize the vividness.
Food: Adjusts the yellowness which makes the food more appetizing.
Flaw Detection
Eradicate closed eyes and blurry photos with Galaxy Note9's Flaw Detection. It intelligently detects blinks, blurs, smudged lenses, and backlighting, notifying you so you can adjust and reshoot.
Note: Detected within 1.5 meters from the camera at launch → 3 meters (MR).
Performance in low-light conditions

Create dazzling portraits even in the dark with a Live focus on the rear camera. It lets you put the spotlight on your friends and family by blurring out the background. Galaxy Note9's camera detects low light and takes multiple shots, blending them together for pin-sharp photos. Then, you can transform the background lights into artistic shapes and expressions.
Improves low light quality by image synthesizing algorithm.
Low-light noise will be reduced and bright area saturation will be suppressed.
Enhanced AR Emoji
Show off your animated side in a whole new way with AR Emoji. Create an avatar as individual as you are with personalization options, like outfits and accessories. Then take a selfie or video as your new self — your emoji follows your expressions and movements closely.
You can also add some famous Disney movie characters (Mickey & Friends / Incredibles / Frozen / Zootopia) faces that follow your unique expressions.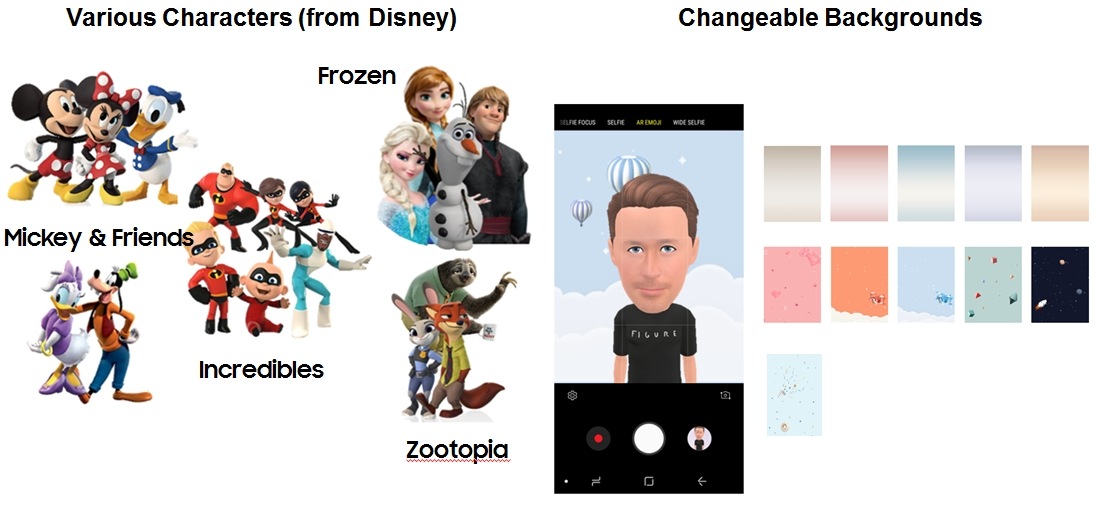 How to take Super slow mo videos on Note9

In Super Slow-mo, you can record up to 20 video segments at 960 frames per second—four times faster than most smartphones!* With this camera you an radically slow down time, making everyday moments epic.
Use Auto mode to activate Motion Detect and capture the moment as soon as a moving subject enters the Motion Detect window. Or use Manual mode and tap the Super Slow-mo button to capture each video segment. Play your videos back and see all the details that flew by.
Discontinuation of Sports Mode in Edit camera modes
Galaxy Note9 no longer supports Sports mode. You are able to take clearer photos of fast-moving subjects, such as a person running or a pet in motion via auto mode with it's improved performance.
Alternatively in Pro mode, you can adjust the Shutter Speed to take pictures similar to Sports mode.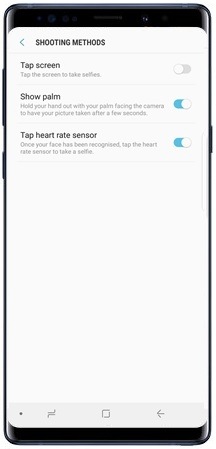 Removed Shooting Methods
Shooting Methods like Tap Screen and Tap heart rate sensor are no longer available on the Galaxy Note9. However, you can now take photos conveniently using the S Pen Remote.

Note: Device screenshots and menus may vary depending on the device model and software version.
Please answer all questions.