What are the different types of USB cables?
Last Update date :
Sep 22. 2020
USB (Universal Serial Bus) cables are everywhere. There are a number of different USB cables each of which has different benefits and is suited to a different task. The cables and ports used by your smartphone and table will be either micro-USB or USB-C on one end, with a USB-A type on the other end.
USB -A
USB-A is most commonly used with computers or power outlets. When charging, you will connect the USB-A side into the USB-plug or into a laptop or computer.
 USB-A cables will only go into the port one way. You can usually tell which way up they should be by the USB symbol printed on the top. Make sure that the cable is inserted the correct way so as not to damage the cable or device.
USB-B
USB-B ports are mostly used to connect printers or external hard drives with computers. They are not as common as the other types of USB cables.
Mini-USB
The USB-Mini was used for connecting mobile devices including MP3 players and cameras, and is a much smaller connection, thus allowing smaller devices.
Micro-USB
Micro-USB used to be the most common USB port and is still found on many older models. This type of connection allows data to be read without needing a computer. For example, you can connect Flash Drives, or Memory Sticks, directly to your mobile device. 
Like USB-A cables, Micro-USB will only go into a port if it's the correct way round. Be careful to match the shape of the port with the Micro-USB cable to avoid causing any damage.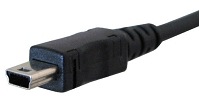 USB-C
USB-C is the most recent USB development and all new Samsung devices come with USB-C ports. USB-C cables allow high speed data transfers and a higher power flow, allowing your phone to charge more quickly. USB-C cables are also reversible and can be plugged in either way round.
Please answer all questions.