What to do if there are scratches, dents or cracks on your Galaxy device
Last Update date :
Jan 17. 2023
If scratches or compression marks or dents or cracks are shown on the screen of your device, please visit the Authorized Samsung Service Center or Book an appointment and check whether you are eligible for warranty.
Depending on types of scratch or damage, service may not be covered by the warranty and additional costs for service may be incurred. 
1. Please be careful not to press the screen with a hard or sharp object, such as a pen or fingernail. Do not apply excessive pressure to it. Please be aware that excessive force or pressure on the main screen may result in scratches or damages.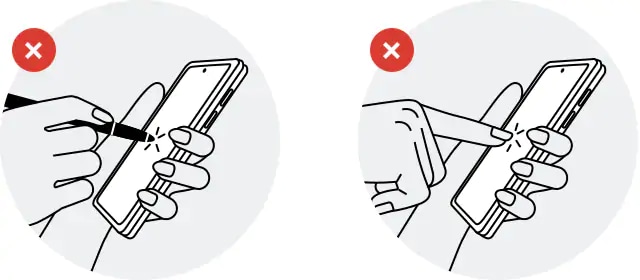 2. It is recommended that you do not remove the screen protector film, and do not install other films or stickers, as doing so may cause device damage. Unapproved screen protectors may cause the sensors to malfunction.
3. Your device contains magnets. Keep a safe distance between your device and objects that may be affected by magnets.
Please answer all questions.