What is e-Manual and how to setup to use it?
Last Update date :
Jul 22. 2022
Are you looking for your user manual? No problem! You can easily access it right from your TV or projector. The E-Manual enables you to have hands-on access to information such as Quick Guides, Connections, Smart Features, Troubleshooting, and Other Information.
You can view the embedded e-Manual that contains information about your Projector's key features. 
1
Press the 
 Home button on your remote control and then select 
 Settings.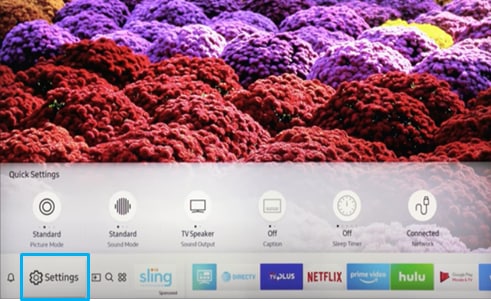 2
Using the navigation keys on your remote control select 

 Support and then select Open e-Manual from the middle menu list.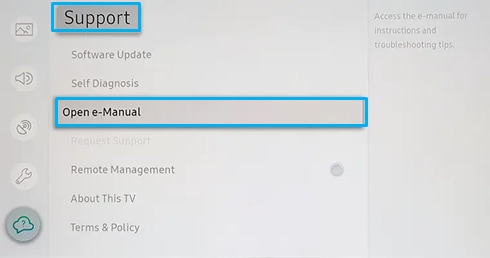 3
You can now view the e-Manual page giving you the option to choose from a number of guides.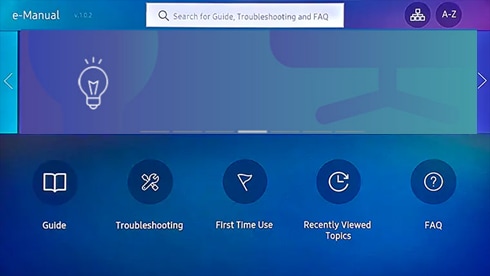 Note:
You can download a copy of the e-Manual from the Samsung Support website to view or print on your PC or mobile device.
Some menu screens cannot be accessed from the e-Manual.
Using the buttons in the e-Manual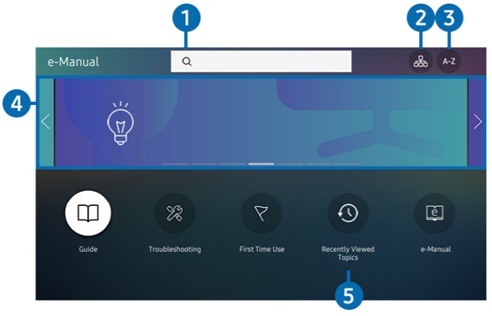 Note: The image on your projector or may differ from the image above depending on the model and geographical area. 
1
Search: Select an item from the search results to load the corresponding page.
2
Site Map: It displays the lists for each item in e-Manual.
3
Index: Select a keyword to navigate to the relevant page. This function may not be supported depending on the model or geographical area.
4
Moving to Guide: Learn how to use various features.
5
Recently Viewed Topics: Select a topic from the list of recently viewed topics.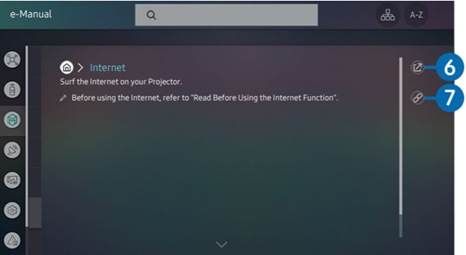 6
Try Now: Allows you to access the corresponding menu item and try out the feature right away.
7
Link: Access an underlined topic referred to on an e-Manual page immediately.
The e-Manual contains 2 rows of menu icons. Use the up and down directional buttons to move between rows and the left and right directional buttons to move within a row. Press the Select button to open the section you want to read.
The e-Manual contains a section called Learn Remote in Accessibility Guidance. This is particularly useful for people who cannot easily see the buttons on the control or who are not clear what each button does. When you are viewing this section of the e-Manual, pressing the buttons on the remote control will not affect the projector. 
Note that the Accessibility Guidance item is only available when Voice Guide (Settings > General > Accessibility > Voice Guide Settings > Voice Guide) is enabled.
Please answer all questions.