Creative Photography Tricks That'll
Get You All the Likes
Capture some magic with these unexpected photo hacks.
Illusions and tricks aren't just for magicians. When it comes to photography, you can achieve similar sleights-of-hand with a few techniques up your sleeve. We've rounded up six unexpected eye-catching photo tricks with the help of photographer Melissa Nordan (@mlnordan), her skilled subjects (a.k.a. her awesome kids) and the Galaxy S21 Ultra 5G. After checking out these mobile photography tricks, you'll see the likes roll in like never before.

Play with a reflective surface
Mirror, mirror on the wall, what's one of the most classic photo tricks of them all? Reflections! Shooting with mirrors can be tricky, and that's exactly why they make good props. Nordan captured this image at a park by holding up a small mirror to the lens of the Galaxy S21 Ultra 5G camera while still focusing on her subject. "I used a mirror, but anything reflective can create an interesting effect—so experiment! Try different shaped mirrors, prisms, or other reflective surfaces," Nordan says. "Start thinking of yourself as a picture maker and not a picture taker." As with any experiment, she had to run a few trials before finding the perfect moment. "I shot this image on the 3x telephoto camera, as that will give a more blurred edge to the reflective object you are holding to the camera," Nordan says.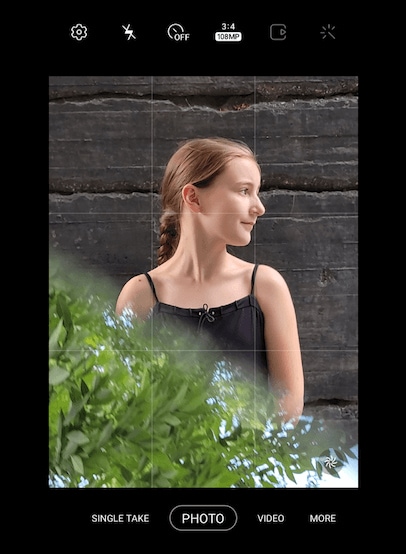 "Start thinking of yourself as a picture maker and not a picture taker."

Use everyday items in unexpected ways
One small prop can go a long way. "For this image, I looked for a neutral background so the leading lines of the slinky would 'pop,''' Nordan says. Keeping in mind that she wanted a close-up portrait, she zoomed way in with the Galaxy S21 Ultra 5G. "I used the 3x telephoto camera, but you can definitely play around with the wide-angle camera and come up with some fun compositions," she says. Here, she locked the focus on her son's eyes while stretching the slinky back and placing the camera in between the coils. Another helpful piece of advice: Use voice commands to take pictures, instead of having to press the shutter button, since your hands are busy holding the camera and slinky.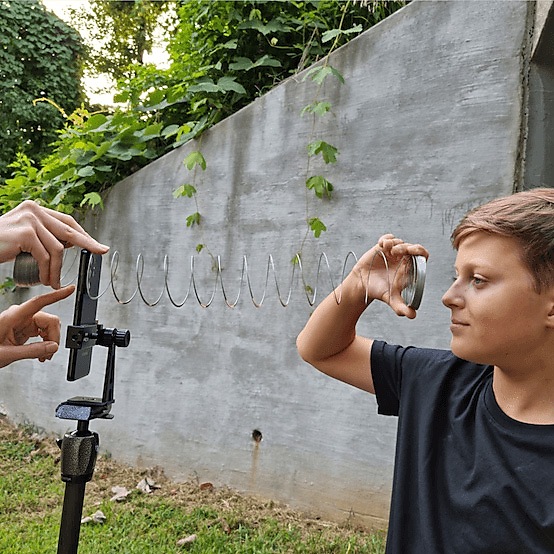 TIP
With the click of a button, you can use the S Pen Pro¹ as a remote control for your shutter.
Try unique light sources
Where you shoot your photos can sometimes be just as important as how. To capture this image, Nordan and her kids set up in a pedestrian tunnel with a tripod. "A low-light environment gives you room to increase your shutter speed," Nordan says. For the light paint effect, she wrapped fairy lights around a stick and had her daughter pose as still as possible. "This is another great situation to enable voice command shutter release so you can avoid touching the camera and adding any unwanted camera shake," she says. Using Pro mode to control the shutter speed around 0.5 seconds gave her enough time to paint with light while minimizing the motion blur of her model.
Pick a natural filter
Inspiration for creative photography can come from anywhere. Just look at what Nordan created with a little bit of water and a sheet of plexiglass. To add layers, Nordan suggests shooting through something that is semi-transparent. She sprayed plexiglass with water to get interesting droplets and used the 3x telephoto camera lens on the Galaxy S21 Ultra 5G to capture the details of the water drops. Nordan had her daughter sit in front of some beautiful flowers to add even more layers to the image. After composing the shot, she tapped on a water drop to focus. "Focusing on the water drops will blur the background and create a more abstract feel," she says. To get different effects, play with how close the plexiglass is to the model or how far you are from the plexiglass.


See the bigger picture
To get an even better look at your photos, view and edit them on a Galaxy Tab S7 for a larger display screen.
Play with perspective
Forced perspective photography is a fun and easy way to create an optical illusion. It's pretty straightforward: To make an object larger, place it closer to the camera. To make an object smaller, place it farther from the camera. Nordan used the Pro mode feature in this setup for better exposure and lighting control. She laid on the ground to center her son between her daughter's feet: "I placed my son against a plain wall and had my daughter stand farther away in the parking area," she recalls. "Using a wide-angle camera option is usually best. Keep the image simple."

Distort and magnify
"Water is an amazing material to incorporate in creative photography," Nordan shares. "Reflection, distortion, and magnification are just a few ways it can be used." So how did she get this impressive shot? She filled a fishbowl with water and placed her daughter behind it. "If my daughter gets too close to the bowl, it magnifies her image; but if she gets farther away, it inverts her image so she looks upside down in the fishbowl!" To avoid unwanted reflections, Nordan took this shot indoors using natural light from a window and bare walls. "Since the light was low," she says, "I shot using a tripod to keep the image as sharp as possible and the 3x telephoto camera lens to get up close."

Ready to go out and shoot your own photos? Take advantage of our photo hacks and apply them in your own creative ways. Upload your snapshots and show the world your unique take by sharing your photos #withGalaxy.
¹Compatible with Samsung Galaxy smartphones, tablets and PCs that support S Pen. S Pen Pro requires charging and pairing.
*All images captured with Galaxy S21 Ultra 5G. No 3rd party S/W used for image editing.
Creativity starts #withGalaxy
Pull off magical shots that defy ordinary.