What is Live Stickers and How to use it?
Last Update date :
Nov 20. 2020
In this FAQ:
      
• What are Live Stickers?
• How to apply 3D Live Stickers?
• How to apply Live Stickers?
With the Live Sticker feature, you can capture photos and videos with various 3D live stickers. As you move your face, the sticker (such as glasses or hats) will track your movements, where you can open your mouth or blink and the sticker will react
      
• 3D live sticker: Apply a sticker such as glasses or a cap on your face
• Live sticker: Open your mouth or blink your eyes as instructed to preview how the sticker moves
How to apply 3D Live Stickers?
1
Open the Camera app > Tap AR EMOJI
2
Select a sticker > Look at the camera and the emoji will repeat your actions > Take a photo or record a video with the button
3
Customise your live sticker with 3D live items such as glasses or caps
Please note: This article is using Galaxy S9/S9+ as an example. The navigation path will be slightly different for other models. For Galaxy Note8, S8/S8+ and A8/A8+, click on the sticker icon, once the Camera app is launched.
How to apply Live Stickers
1
Open the Camera app > Tap AR Emoji > Tap STICKERS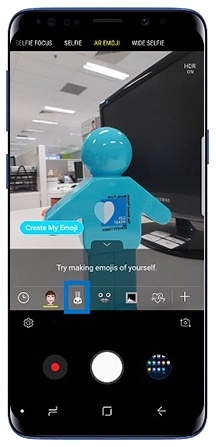 2
Select a sticker. The sticker will move along with your face's movements and angle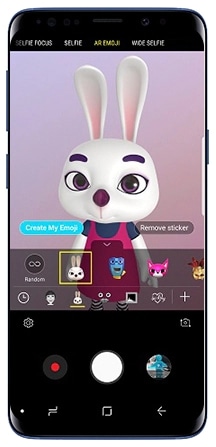 The sticker move along with face motion
3
Tap camera shutter button to take a photo or to record a video
Photo or Video is captured