Gear 360: How do I Connect it to a Mobile Device?
Last Update date :
Sep 25. 2020
You can view videos or images taken with Samsung Gear 360 on your mobile device or control Samsung Gear 360 using your mobile device.

    Firstly, you should install a Samsung Gear 360 app on the mobile device in order to connect your Samsung Gear 360 to the mobile device. 

1
Installing the Samsung Gear 360 app
Downloading the app from app stores
Depending on your device, you can download the Samsung Gear 360 app from the following app stores:

• Samsung Android devices: Galaxy Apps
• Other Android devices: Play Store
Next, in order to control Samsung Gear 360 by your mobile device, the Gear must be paired with the mobile Device.
After pairing, Samsung Gear 360 will try to connect to the mobile device every time you turn on the device. Connection methods may vary depending on your mobile device and its software version.
2
Connecting to a mobile device via Bluetooth
Pairing with a mobile device using the Samsung Gear 360 app
< Samsung Gear 360 >
1. Turn on Samsung Gear 360. It will enter the Bluetooth pairing mode.
To enter the Bluetooth pairing mode manually, please press and hold the Menu Key until Gear 360 Manager appears; then press the OK key to select it.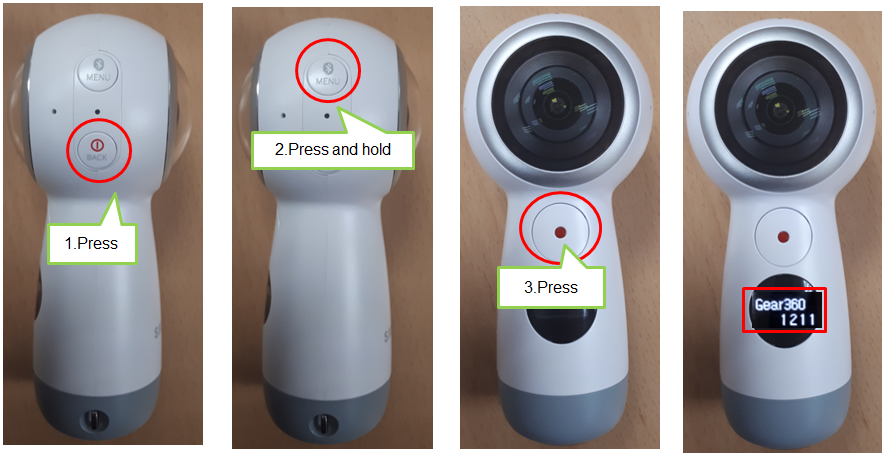 < Mobile device >
2. Tap Samsung Gear 360 on the Apps screen
3. Tap CONNECT TO GEAR 360.
4. The mobile device will activate the Bluetooth feature and search for devices to pair with.
    After confirming the device name, tap the device name that you want to connect.

5. Read the Terms and Conditions on screen instructions and tick the check boxes.
Tap DONE when finished
6. After the devices are paired, the Samsung Gear 360 app's main screen will be displayed on the mobile device.
After pairing, the Bluetooth icon appears on the camera status screen.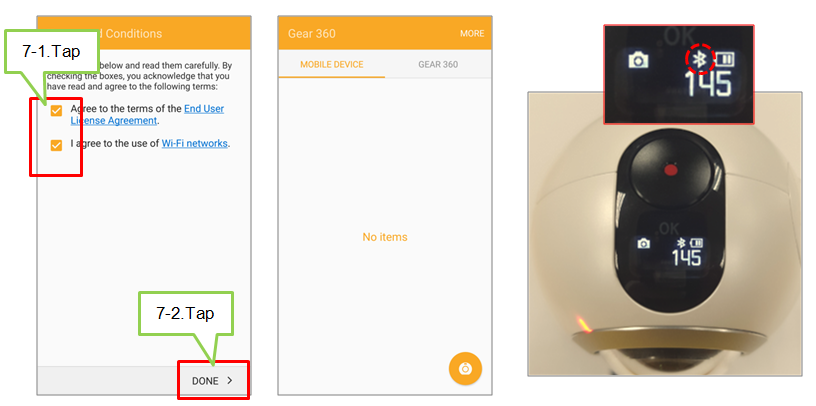 Please answer all questions.