How To Remove And Clean the Glass Shelf Above Crisper Drawers In French Door Refrigerator
Last Update date :
Nov 23. 2020
Glass Shelf in the French Door
If you need to remove the bottom glass shelf above the fruit and vegetable drawer, perform the following steps:
WARNING:

• Always use caution when working with glass. It can break easily and/or cause injury.

• If the retainer clips are damaged they cannot be replaced individually. Then entire shelf will have to be replaced as they are part of the assembly.

• Avoid using hot water to clean the glass while it is still cold, as the glass may crack.
IMPORTANT:

If the clips are broken, the shelf can still be used. However, extra care must be taken when moving the shelf to prevent dropping the glass.
1
Remove both fruit and vegetable drawers. To remove the drawers, angle them slightly toward the center of the fridge as you slide them out.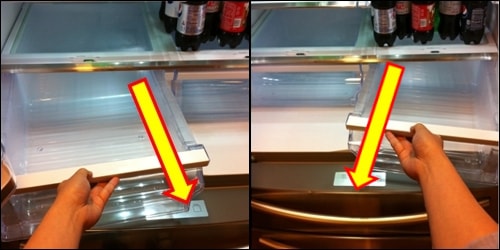 2
Next, Locate the tabs on both sides of drawer divider/water filter housing.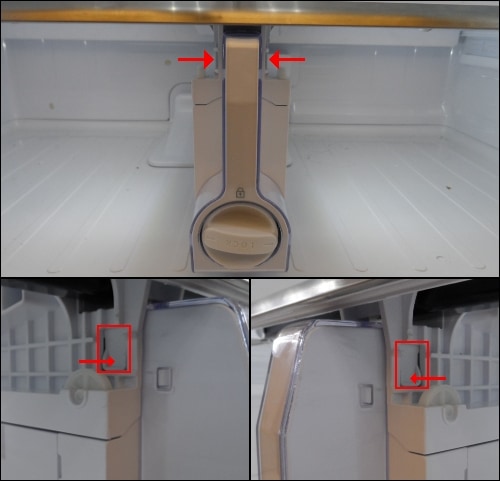 3
Press in on the tabs and separate the shelf from the water filter housing.
4
Now, remove the shelf by slightly lifting up as you pull it out.
TIP: It helps if you angle one side of the shelf downward as you pull it out of the fridge.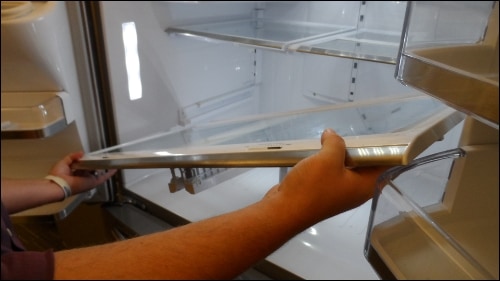 5
Locate the shelf glass retainer clips. The retainer clips are located on the back left and right corners where the glass meets the white plastic.
6
After carefully turning the shelf over, and placing it on a clean flat surface, locate the tabs that hold the retainer clips in place.
7
Lift each of the back corners (one at a time) of the shelf and gently push in on the tab that is holding the clip in place.
NOTE: Only push in on the side of the tab that is closest to the center of the shelf.
8
Once both clips are removed, gently raise the shelf and then separate the glass from the shelf frame.
9
Clean the glass panes with water and a mild detergent or glass cleaner and wipe dry with a clean lint-free cloth.
10
To reinstall the glass shelf, repeat the previous steps in reverse.
Please answer all questions.