Why are there blue stains on the laundry?
Last Update Date :
Apr 02. 2018
If laundry is coming out with bluish colored stains, it suggests the detergent compartment or the fabric softener compartment is being overfilled. When these compartments are overfilled, the detergent or fabric softener will immediately dispense into the wash tub, resulting in stains on the fabric.
Warning: Do not overfill the bleach compartment, as it will dispense immediately.
To prevent this kind of staining, fill the detergent and fabric softener compartments only to the max level indicator. See the illustrations below.
A normal cycle will add water to the drum and cycle back and forth a few times to evenly wet the load before any detergent is introduced into the wash tub. Once this action is complete, the detergent will be diluted and dispensed into the wash tub.
If you are experiencing this condition, run a sanitize cycle with no clothes to clean the machine. Then use the recommended amount of detergent and fabric softener when you wash your clothes.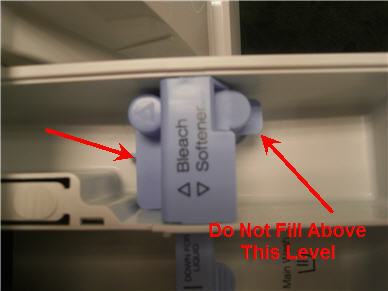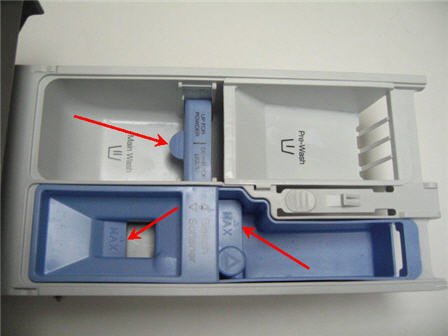 Not finding what you're looking for? We're here to help.
Call
36984698Hong kong
Operation Hour:
Monday-Friday: 9am-8pm
Saturday, Sunday & Public Holiday : 9am-6pm
0800 333Macau
Operation Hour:
Monday-Friday: 9am-8pm
Saturday, Sunday & Public Holiday : 9am-6pm
21219088Samsung Pay
Operation Hour:
Monday-Sunday: 9am-10pm

* For Printer inquiry, please visit HP official web page .
Customer
Service Support
Smart Service
Samsung SMART SERVICE allows you to experience a whole range of services, right here at our Samsung Experience Store!
Contact Us