How do I Use Gear Sport (Hong-Kong version) as PPT (PowerPoint) Controller?
Last Update date :
Sep 25. 2020
If you connect your Gear Sport and PC through Bluetooth, you can use your Gear as controller for PPT (PowerPoint) files saved on your PC.
 
Firstly, please check that your computer can support Bluetooth function before trying to connect the Gear Sport and the computer.
1
Tap PPT Controller icon on the Apps screen of your Gear Sport
2
Tap CONNECT and connect your Gear to a computer in five minutes. If your Gear does not appear on your computer, please refer to the user manuals of your computer
3
Select your Gear from the Bluetooth list on the computer
4
Follow the on-screen instructions to complete the connection
The Gear and computer will be connected via Bluetooth.

Note: If your computer and Gear do not connect, please cancel the Bluetooth request on both devices and try again.
Alternatively, remove the Gear from your computer that previously appeared on the Bluetooth list, and try again.
Do refer to the users' manual of your computer for more information
Once the connection between the Gear and the mobile device is completed, you can use your Gear Sport as PowerPoint Controller for your PC.
5
Tap PPT Controller icon on the Apps screen of Gear Sport
6
Tap SLIDESHOW to control the slides
Tap to move to the next page or tap to move to the previous page. Alternately, rotate the bezel clockwise or anticlockwise.
Tap TOUCHPAD > and move your finger to the screen to control the cursor on your computer
7
Tap STOP to stop controlling slides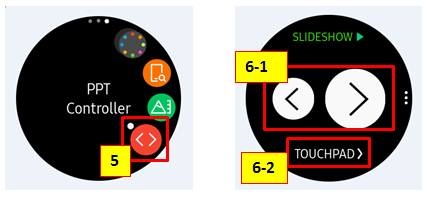 Please note
When you make a presentation with the slides, you can set the finishing time on your Gear Sport in advance to receive an alarm on the set time. 
Tap, rotate the bezel and tap Wrap-up alert
All other products and services mentioned may belong to their respective trademark owners.
All images are for reference only.
The above product description is only applicable to the "PPT Controller" application version released in 2017 on "Samsung Gear Sport" in Hong Kong, and for reference only.
Please answer all questions.