How do I use Hyperlapse mode in Galaxy S7 and S7 edge?
Last Update date :
Nov 23. 2020

l Please note that the answer below is a reference for customer and which may change in different software version, the Images are for reference only, all other products and services mentioned may belong to their respective trademark owners
Using Hyperlapse mode, record scenes, such as passing people or cars, and view them as fast-motion videos. The frame rate is automatically adjusted to record smoother, less shaky fast-motion videos while walking, travelling by vehicle, and more.
Note: In this mode, auto focusing will not operate.
1. On the preview screen, tap MODE.
2. Tap Hyperlapse.
3. Tap Speed icon and select a frame rate option. If you set the frame rate to Auto, the device will automatically adjust the frame rate according to the changing rate of the scene.
4. Tap Record icon to start recording.
5. Tap Stop icon to finish recording.

6. To view the video, on the preview screen, tap the preview thumbnail.
7. Tap Hyperlapse icon.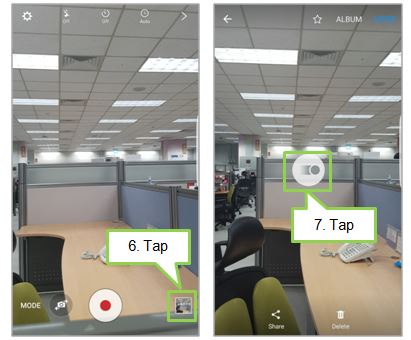 Please answer all questions.