How to optimize your sound experience with Galaxy Buds+
Last Update date :
Oct 28. 2020
Whether you are in the middle of a crowded flea market or listening to a podcast you like, your earbuds will have an audio setting that's perfect for you. Check out a variety of ways to personalize the sound options on your Galaxy Buds or Buds+ to get a better experience.
Before you try the functionality suggested below, be sure to check if your device's software is updated with latest version. You can find more about 'How to connect and update Galaxy Buds+ with Galaxy Smartphone' with Samsung Support.
Sound settings for the Galaxy Buds and Buds+
Once your earbuds are connected to the Galaxy Wearable app, on the app's Home screen you can select from six different equalizer presets and enjoy the same music with a different and unique sound. Drag the slider to change the settings from Normal, Bass boost, Soft, Dynamic, Clear or Treble boost. You can simply try out the options to find the most suitable sound mode that fits you at the moment.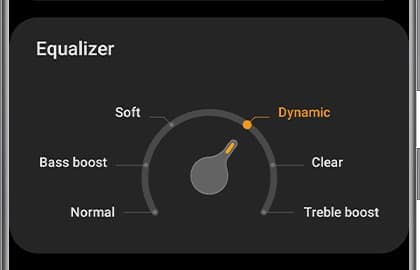 Note: The Equalizer is also available when you are using the Buds+ app on an iPhone 7 or later with iOS 10 or higher. 
Option 1. Control the ambient sound
It is important to have an option to hear your surroundings clearly while you are listening to music outdoors, so you can quickly detect any potentially dangerous situations. 
Step 1. Launch the Galaxy Wearable app on your mobile device.
Step 2. Switch ON the Ambient sound.

Step 3. Drag the adjustment bar to adjust the ambient sound volume.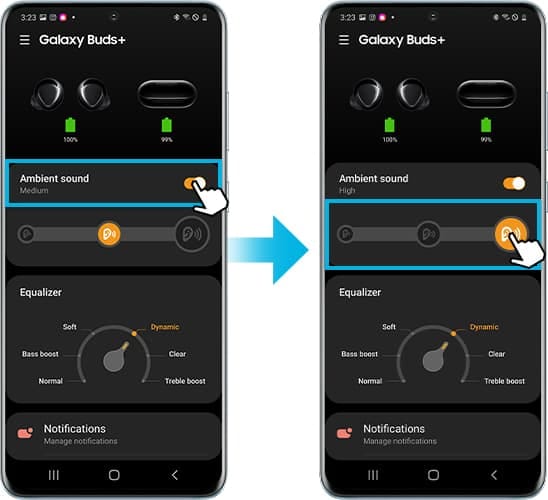 If you want to add extra volume, you can change settings on Labs to get the ambient sound volume to Extra high.

Step 4. Swipe to and tap on Labs > Switch ON the Extra-high ambient volume.

Step 5. Drag the adjustment bar to adjust the ambient sound volume to Extra high.
Note: 

During a call, ambient sound mode will turn off automatically. After a call, the mode returns to the previous state.
In case of sound amplifying like ambient mode, feedback like howling may occur when your earbuds or ear tips do not fit well in your ears. Please make sure your earbuds including ear tips of Galaxy Buds+ fits properly with your ears and if not, replace with ear tips that fit your ears.
Option 2. Automatic sound switching
There's time to time you may only want to wear one earbud in case someone needs to speak with you. Automatic sound switching on Galaxy Buds+ supports your sound settings with flexibility. The good news about using automatic sound switching is there are no settings to adjust. The Galaxy Buds+ will automatically switch the sound output to mono to stereo, based on how many earbuds are placed in the charging case. When you're using one earbud, make sure to place the other earbud in the charging case to avoid losing it and prevent battery drain.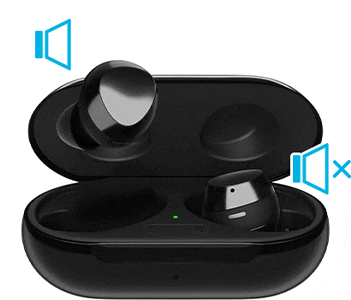 Note: Device screenshots and menu may vary depending on the device model and software version.
Please answer all questions.