How to update software and apps on your Samsung Galaxy Watch Active2
Last Update date :
Oct 28. 2020
The Samsung Galaxy Watch Active2 is designed to help you learn more so you can achieve more. It goes beyond tracking steps and calories as well as your running style to your heart rate. Yet it would be always great to have your Galaxy Watch that runs the lastest version of Android and that you have downloaded the latest updates to the Galaxy Wearable app. Here's how easy to maintain your software and apps up to date. 
Update the software on your watch
You can use the Galaxy Wearable app to regularly check for updates once your phone is connected with your Galaxy Watch Active2. 
How to update watch software with a phone 
Step 1. Launch Galaxy Wearable app. 
Step 2. Tap on Home  > Watch software update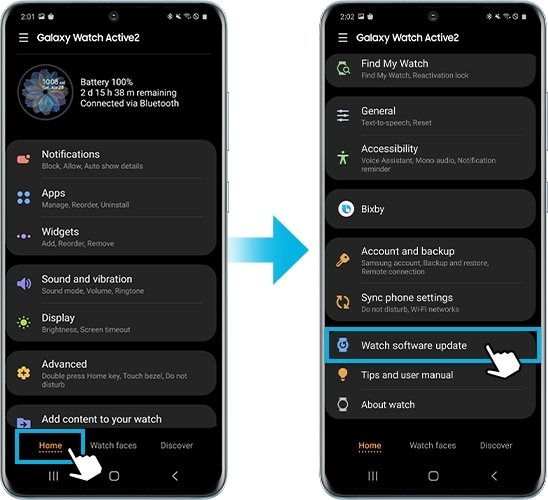 Step 3. Tap on Download and install.
Step 4. Tap on Install now if an update is available. 
If no update is available, your device will display the message: "Your software is up to date". 
For some watches, you will need to tap on About watch, About band, or About Gear to access the software update menu. To automatically download software updates over a Wi-Fi network, be sure to turn on the Switch for Auto download over Wi-Fi. 
Note: The watch will disconnect from your phone when the update starts. Once the update is complete, your watch will reconnect to your phone automatically.
Update your apps on the watch
The Galaxy Store doesn't just update phone apps. It can update your watch's app too! Here's how you can seemlessly integrate with your favorite apps to your Galaxy Watch Active2 below.

How to update watch apps with a phone

Step 1. Enter the Galaxy Store. 
Step 2. Tap on the Watch icon.
Step 3. Navigate to Menu > Updates.
Step 4. Tap on Watch tab > Update all.
To download indivisual updates, tap the Update icon to the right of the app.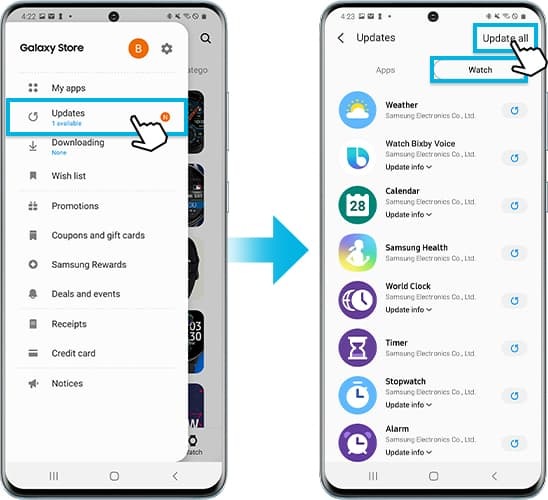 Note: 
You can set to use the Galaxy Watch Active2 without a mobile device when you turn on the Galaxy Watch Active2 for the first time or you reset it. Some features are not available when you are using the Galaxy Watch Active2 without connecting to a mobile device. 
Device screenshots and menu may vary depending on the device model and software version.
Please answer all questions.