How to use the Portrait mode of The Sero
Last Update date :
Dec 08. 2020
Samsung The Sero TV offers Portrait mode for you to enjoy your mobile contents properly and change the room atmosphere with various Portrait mode contents. We have a detailed guide to using the Portrait mode as follows.

Switch from Landscape mode to Portrait mode
There are three ways to switch The Sero from landscape to portrait. You can use the included remote, Bixby Voice, or SmartThings app connected with The Sero. Choose one of the three methods that best suits you and try it out.
Method 1. On the Samsung Smart Remote, press the rotate button.
Method 2. On the Samsung Smart Remote, press the Bixby button and say "Portrait Mode" or "Rotate vertically".
Method 3. In the SmartThings app, select The Sero, tap TV Control, and then tap the rotate button.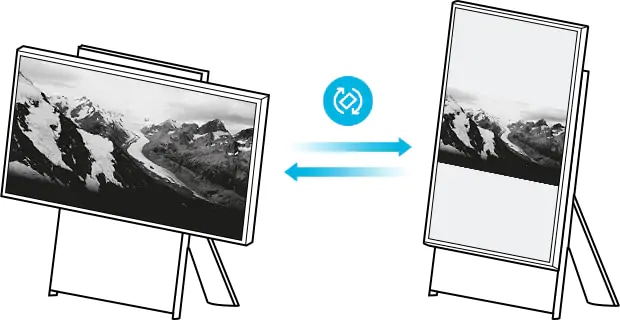 Note: When the screen is switched from landscape to portrait, the content is played at the center and the size varies depending on the aspect ratio.
How to set the contents in the Portrait mode
You can select various types of contents for the portrait mode: Clock, Poster, My Photo, Cinemagraph, and Sound Wall. Those features will make The Sero blend seamlessly into your space. You can change your room's ambience with one of five modes.
Using the remote control
Step 1. Press the Select button on the content screen only for portrait mode.
Step 2. Go left or right to change the content category.
Step 3. Move to the desired content category and go up or down to select.
Using the SmartThings app
Step 1. In the SmartThings app, tap The Sero, and tap Portrait Mode.
Step 2. Select the content category, select the desired content, and then tap the View on The Sero button on the screen.
Note:
Portrait mode may not be supported depending on the app and the provided content will be updated in the future.
The device screenshots and menu are only a sample in English - they are also available in the language of your country.
Please answer all questions.