What Will the Future
Workplace Look Like?
How tech and a changing world are evolving careers.
The 2020s have been a dramatic decade so far, with seismic shifts to almost every area of our lives. We've had to collectively pause, take a deep breath and continuously adapt. We've adjusted personal relationships, built closer connections to our local communities and reassessed how our actions impact absolutely everyone around us – right up to a global scale. And this has had huge repercussions on the way we work too.

The onset of emerging workplace trends has been accelerated, forcing us to forge short-term solutions to keep us connected to our colleagues. But what about the long term? As the new normal continues to develop and evolve, we can anticipate greater changes to working life, including the workplace itself.
Work wherever you choose
Traditionally, great importance has been placed on being physically present in the workplace. Across many different industries, especially in office-based roles, liaising with colleagues in the flesh was thought to foster a culture of productivity and innovation.

While a few trailblazing companies have long peddled the idea of benefits of remote working, a culture of 'presenteeism' has generally prevailed across most sectors until very recently. Now, a great work-from-home experiment is underway, and the notion that you have to be physically present in the office is being tested and challenged.

With a shared space no longer a necessity, companies have evolved to become more agile and accommodating, creating efficient remote working structures that put teams at the forefront. Far from curtailing collaboration, the consensus is that conference-calling software has enhanced connections between co-workers, ensuring the survival of businesses across the globe.

Long term, we could see a grander shift to remote working, and alongside that, the reduction of non-essential business travel. Headquarters aren't going anywhere for the time being, but their role might change. Grab your Samsung Galaxy Book laptop and you can work pretty much anywhere there's an internet connection.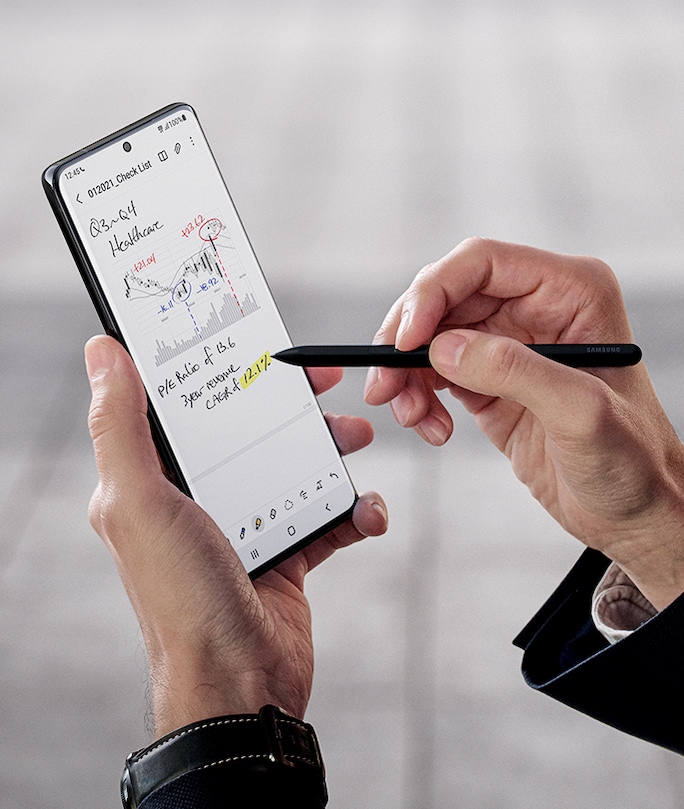 Time for flexitime
9-5 working hours are so ingrained in working culture that a certain country and western artist once cemented the notion in song. But with more internet-based careers emerging than ever before – and many employees working remotely – organisations are realising that setting firm time constraints on the working day is no way to make a living.

We're waking up to the fact that everyone is different. Some people prefer to plough through their to-do list early in the morning, while night owls may find creativity peaks around the witching hour. Both are equally valid. While virtual meetings need to take place during core periods that suit the majority, employers are embracing the idea of allowing staff to create, tailor and manage their own schedules. Whenever inspiration strikes, just jot down a few notes using the S Pen on the Samsung Galaxy S21 Ultra to help you impress in the day ahead.

Flexible hours are an attractive proposition to many people, particularly with health and wellbeing now firmly in the spotlight. Maybe you're looking for a role that encourages you to hit the gym in between meetings, or perhaps you're a parent looking for a job that takes childcare arrangements into account. Whatever your lifestyle, major companies are now trusting employees to complete tasks around their lifestyle, and doing away with the 9-5. In future, flexibility and task-centric working could be key for desk-based roles.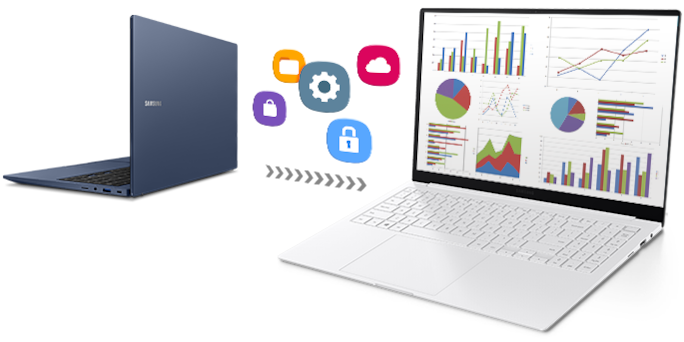 Rise of the machines
Even before the pandemic, consumer preferences and newly developing business models were propelling the global workforce towards innovation. But sectors including technology, finance and insurance have experienced a much faster adoption of automation and artificial intelligence than anyone ever expected.

Warehouses, supermarkets, call centres and manufacturing centres are just a few examples of workplaces that have been keenly deploying innovations that reduce the amount of bodies in one building. Adopting new technology has also helped industries cope with new surges in demand. Socio-economists predict that industries with traditionally high levels of human interaction, such as retail, are likely to see the greatest adoption of automation and AI in the near future.

Soft skills and digital literacy
In response to the above, many of us are finding we need to accrue a whole new matrix of 'soft' skills to meet the demands of change. Ultra-fast upskilling has been vital to ensure that everyone can operate remotely, innovate and adapt at a rapid pace. Many companies have created training schemes or brought in external agencies to bring the entire workforce up to speed on important qualities that nurture our new normal.

Adaptability and creativity are two intrinsically human traits that have found new importance as our world continues to shift online. While these characteristics can't be 'taught' per se, they are abilities that can be supported and developed by the right organisation. Alongside this, leadership, basic cognitive skills and emotional intelligence are now required soft skills that many employers look for in new talent across all levels.

On the flipside, the hard skill of digital and data literacy is now fundamental. With many companies digitising or fully digital, having good working knowledge (or at least being open to learning) critical technology, data concepts, and processes is an essential requirement for many jobs.

The death of workaholism
The word 'workaholism' was coined in 1971 by a psychologist named Wayne Oates, who described the affliction as "the compulsion or the uncontrollable need to work incessantly." Working extremely long hours and over-delivering has, until very recently, been worn like a badge of honour across numerous different sectors – from those that work in the building trade to physicians, tech workers and lawyers.

But this 20th century addiction to pushing yourself to the limit is no longer commendable. Now, focus on good health practices, including mental health, will ensure that workplaces put people's wellbeing at the forefront in future. The idea of a 'dream job' may instead be replaced by a 'dream life' that brings joy and fulfilment in many different ways.

Ready to embrace a new way of working?
Here's everything you need.