Immerse yourself in stunning sound. Claim 25% cashback on any 2020 Samsung Soundbar. And if you buy it with any Samsung TV, you can double your soundbar cashback to a huge 50%. Discover a TV and Sound experience unlike any other.
Claim yours in 4 easy steps
Step 1:
Buy a 2020 Samsung Soundbar from a participating retailer between 16.09.2020-03.11.2020 to claim 25% cashback from your 2020 Samsung Soundbar. Or, double this cashback amount to 50% when you buy any Samsung TV from the same participating retailer at the same time or within 45 days of purchase of your Soundbar.

Step 2:
Click 'Claim Now' below and complete the online claim form, upload proof of purchase and any other information required. Claims must be made between 30 and 60 days after purchasing your 2020 Samsung Soundbar.

Step 3:
Our team will review your claim, and you will then receive an email to confirm when it has been validated.

Step 4:
You will receive your cashback by way of bank transfer within 30 days of validation to the bank account you detail in your claim.
What's included in the offer?
Choose your Soundbar
Claim 25% cashback on any of these Soundbars.
Q-series Soundbar
S-series Soundbar
All in One Soundbars
Soundbar with Subwoofer
Q-series Soundbar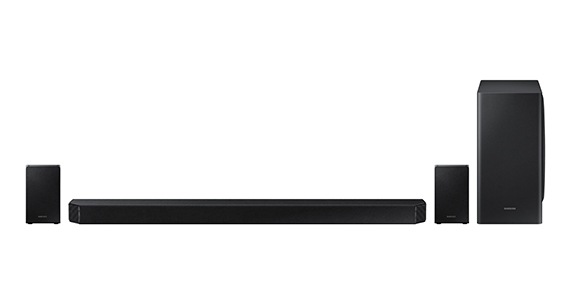 HW-Q950T

CLAIM
25% Cashback
S-series Soundbar

All in One Soundbars
Soundbar with Subwoofer
HW-Q800T

CLAIM
25% Cashback
Choose any Samsung TV with your
2020 Samsung Soundbar
Claim 50% cashback on your 2020 Samsung Soundbar, when brought with any Samsung TV
QLED

Lifestyle

The Frame

CLAIM
50% Cashback
Ultra HD

*Samsung Electronics (UK) Limited. UK, Channel Islands, Isle of Man or ROI residents aged 18+ only. Purchase a selected new (i.e. not second hand) Samsung Soundbar (Promotion Product) between 16.09.20 – 03.11.20  from a participating retailer (either in-store or online) to claim cashback equal to 25% of the Promotion Product or purchase a Samsung TV within the same transaction (or within 45 days) from the same retailer to claim cashback equal to 50% of the price of the Promotion Product. To claim, visit https://www.samsung.com/uk/offer/samsung-soundbar-cashback-offer/ or https://www.samsung.com/ie/offer/samsung-soundbar-cashback-offer/ complete the claim form and submit it together with a scanned proof of purchase showing both purchases. Claims may only be submitted between 30 and 60 days from the date of purchase. Maximum 1 claim per purchase and 1 per household. To claim, and for full terms and conditions, see https://www.samsung.com/ie/offer/samsung-soundbar-cashback-offer/