How do I clean the door seal of my Samsung washing machine?
1
Open the washer door and remove any clothing or items from the washer.
2
Inspect the grey coloured seal between the door opening and the basket for stained areas. Pull back the seal to inspect all areas under the seal and to check for foreign objects.
3
If stained areas are found wipe down these areas of the seal using the procedure:
   a) Mix a diluted solution of ¾ cup (177ml) of liquid chlorine bleach and 3.8 litres of warm tap water.
   b) Wipe the seal area with the diluted solution using a damp cloth.
   c) Wait five minutes.
   d) Wipe down the area thoroughly with a dry cloth and leave it to dry.
Note: wear rubber gloves when cleaning for prolonged periods and refer to the bleach manufacturer's instructions for proper use.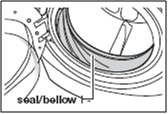 Not finding what you're looking for? We're here to help.
Online


There are a number of different ways of contacting us via Live Chat, Email, Twitter, Facebook Messenger and more.

Need a repair?



Whether your product is in warranty or out of warranty, we're here to help.

Contact Us