My washing machine is noisy/vibrating. How can I make it quieter?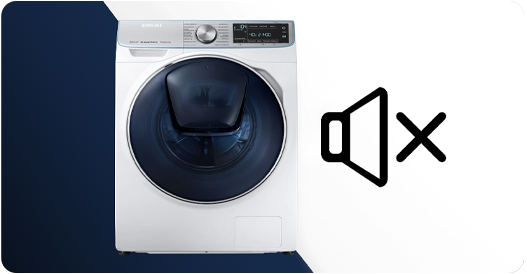 Samsung washing machines have many features and programs to get the best results and maximum efficiency. With so many fabric types and different types of items to wash, it is important that you select the correct program cycle, weight of items and detergent for each wash. Read on to find out how to reduce the noise or disruption caused by your washing machine while it's running a cycle.
Not finding what you're looking for? We're here to help.
Call
0818 717100Phone Support
Smartphone support | Mon-Sun | 8am to 8pm
All Products support | Mon-Sun | 8am to 8pm

0818 302 016Samsung Shop
For new and existing orders | 9am - 5pm, 5 days a week
0124 75161B2B Support
For business support
8am - 6pm, Mon - Fri
Calls to 0818 numbers are a National Call number.
These are subject to call charges which vary by network and are subject to change.
Calls maybe recorded for training and quality purposes.
For information on how we collect and use your details, please refer to our Privacy policy
* For any printer related enquiries please visit the HP website.
Contact Us