Enjoy the different share features in your Galaxy S20 | S20+ | S20 Ultra
You can share music and contents with anyone by using the new features embedded in your Galaxy S20 series.
The Music Share feature allows you to easily share the Bluetooth speaker connected to your device with others. With Quick Share you can share content with nearby devices via Wi-Fi Direct or Bluetooth, or with 'SmartThings' supported devices.
Share music without Bluetooth connection
You don't need a Bluetooth connection to share music. You can access your friend's speaker without any hassle of pairing. Just connect with the Music Share feature on your Galaxy S20 device and instantly play music on your smartphone. 
This feature is only available on devices that support the Music Share feature.
Note: Both phones need to have Wi-Fi and Bluetooth turned on while sharing.
Preparation (Host) : Be paired with a speaker and turn on Music Share.
Activation (Guest) : Go to the list of Bluetooth devices, then connect to the Music Share speaker. Start playing music.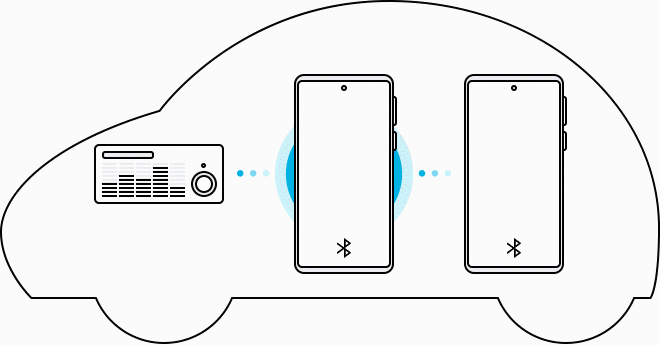 Music Share is only available on Galaxy devices that support the Music Share feature.
Music Share is a new feature based on Wi-Fi and Bluetooth, and depends on a Wi-Fi chipset.
The Music Share feature can be used with any music application.
Devices based on Android Q OS will support this Music Share feature and the available target may differ by device model.
Quick Share feature highlights
With Quick Share, you can share images, videos and files instantly with friends. You can share files with up to 5 people simultaneously without pairing devices.
How do I use the Quick Share feature?
Step 1. On the other device, open the notification panel, swipe downwards and then tap Quick Share to activate.
Step 2. Launch the Gallery app and select image. Tap the Share button and select a device to transfer the image. Accept file transfer request on the other device.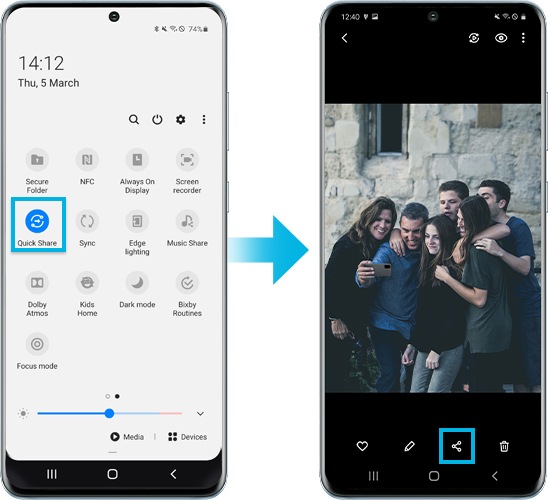 Note:
If the person you want to share with isn't showing, check that the other device has Quick Share or Phone visibility turned on in the quick panel. Ensure the other person's screen is on. You may incur additional charges when sharing files via a mobile network.
Devices based on Android Q OS will support this Quick Share feature and available target may differ by device model.
Receiving device must support Wi-Fi direct. Receiving device's screen is on.
Wi-Fi must be on.
You can send up to 1GB at one time and maximum 2GB per day.
Please answer all questions.