How do I record a call on my Samsung Galaxy S III?
Issue:
How to record calls on the Galaxy SIII handset device.
Solution:
There are a number of third party applications available in
Google Play Store
which allows calls to be recorded.
For example
, try downloading the free (third-party) app:
Auto Call Recorder
from
Play Store
, (available to-date 30/05/12):
The
Google Play Store
can be accessed as follows:
1. From the main home ('standby' or 'idle') screen, select (tap)
Apps
.
2. Select
Play Store
.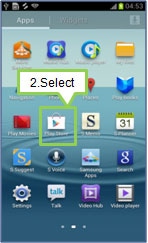 Important Note
Samsung cannot be held responsible for any issues arising from the
use
of
third-party applications or software
.
We recommend using only Samsung-approved software, accessories and equipment.
Software or applications that are not recommended by Samsung may cause problems or damage to the handset, and may also invalidate the warranty of the device.