How do I set a music file as a ringtone on my Samsung Galaxy smartphone?
Your device can add a music file, such as an mp3, as a ringtone either as a general ringtone or as a personal ringtone for a specific contact. 
You won't be able to use tracks that you play via a streaming service as the terms and conditions of most streaming services are that you pay to listen to the songs and albums, not to purchase the songs themselves. You will need to have purchased that particular album or track and have downloaded the file directly to your device.
Set a music file as a ringtone
1
From the home screen, choose Apps or swipe up to access your apps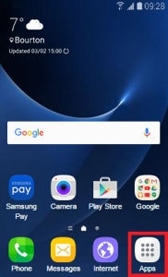 2
Select Settings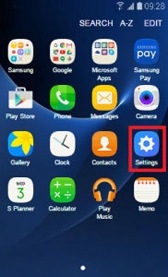 3
This step will differ slightly depending on your model.
Select Sounds and vibration or Sounds and notifications or Sounds
4
Select Ringtone (you may need to scroll down a little)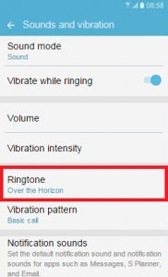 5
These will show all the ringtones on your device.
To use your own music file, tap Add or Add ringtone (you may need to scroll to the bottom for this).
6
If prompted, tap the Sound picker , then if prompted tap Allow
If you do not see the below screen pop up, or are not taken to a screen displaying your audio files, you may need to do a settings reset.    
7
Choose the music file.
If the file does not appear under Tracks, choose Folders to locate the file. 
PLEASE NOTE: that you need to have downloaded the actual music file onto your device.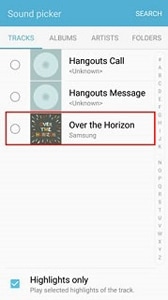 8
Tap Done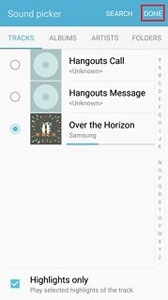 Assign a personal ringtone to a contact
To assign a personal ringtone to a contact on your mobile device:
1
Tap Contacts
2
Tap the desired contact
3
Tap Details. If you do not see this screen, go to step 4
4
Tap Edit
5
Tap Ringtone. You may need to tap the View more downward arrow before choosing Ringtone
6
You can select one of the ringtones already on your device, but to set a music file, scroll all the way to the bottom then tap Add or Add Ringtone
7
Tap Sound picker
Note on some devices you may go straight to the audio files instead of seeing this step.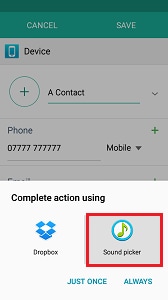 8
Select the music file you wish to use, then tap Done
PLEASE NOTE: you need to have the specific music file downloaded onto your device
9
Tap Save
If you're experiencing unusual behaviour on Samsung mobiles, tablets or wearables, you can send us an error report or ask us a question in the Samsung Members app.
This allows us to a closer look at what is happening. The data is anonymised and only held for the duration of the investigation. Find out more about sending an error report through the Samsung Members app.
Not finding what you're looking for? We're here to help.
Call
0818 717100Phone Support
Smartphone support | Mon-Sun | 8am to 8pm
All Products support | Mon-Sun | 8am to 8pm

0818 302 016Samsung Shop
For new and existing orders | 9am - 5pm, 5 days a week
0124 75161B2B Support
For business support
8am - 6pm, Mon - Fri
Calls to 0818 numbers are a National Call number.
These are subject to call charges which vary by network and are subject to change.
Calls maybe recorded for training and quality purposes.
For information on how we collect and use your details, please refer to our Privacy policy
* For any printer related enquiries please visit the HP website.
Contact Us